Tailored UX Audit Services
Simplify users' lives and bring more money to your business with award-winning design and usability experts
Let's work together


Improve your product's performance
UX Audits services include applicable expert overviews of your mobile app or website. Established methods of the evaluation, like usability audits, design and expert reviews, heuristic evaluations, and cognitive walkthroughs, can significantly optimize your existing flows and increase conversions.
Boost success rates based on proven UX practices
You can avoid up to 95% of potential user experience errors with a UX audit service of your existing website. According to Nielsen Group research, websites record increases in the desired results after redesigning usability by an average of 135%. 
Smooth the user flow
Have you noticed a significant drop in website conversions? Has your app user engagement been going down? Or have you been dealing with negative store reviews? Uncover hard-to-notice issues that cannot be detected in small qualitative studies and apply quick fixes that can patch the holes and create a seamless user experience.
Surprise your users with a fresh app look
Make sure you run in-progress design critique sessions during the project life-cycle. User experience audits should be considered whenever a milestone of your product design is met, or any major redesign process is complete. Get valuable insights that will help you elevate your product value in the future.
Reduce project costs early
Recover from critical friction points before committing workload to further implementation and product development. Gain insights from usability, engineering & domain experts to elevate your product value and reach pre-defined goals. Apply guidelines resulting from UX expert review and show your users a smooth way to conversion.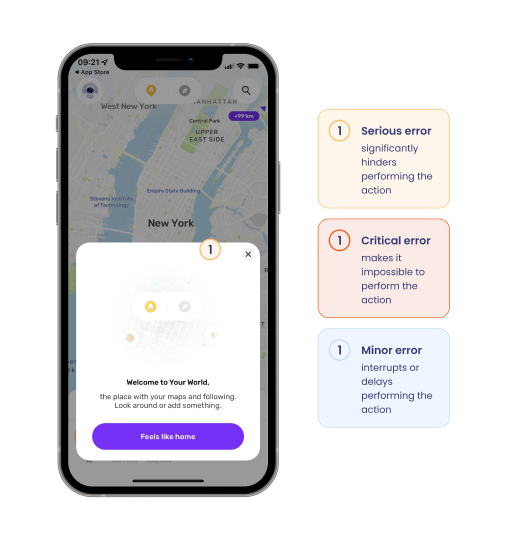 YouMap UX Design Review  case study
Our goal was to support the future plans of our client and give the app users the best possible experience while using YouMap. By conducting the cognitive walkthrough, our team delivered a full UX expert review with a report indicating possible elements for improvement.
Project scope
DELIVERY AND IMPLEMENTATION
V1 development and release
UX Audit services with Miquido
UX Expert Review
1 week of delivery
Indicate potential usability issues which could negatively impact user experience and quickly fix them. Receive an expert's overview of your product's usability and a list of prioritised solutions to detected issues, with examples of best practices from our user experience audit expert.
Key steps & deliverables
User scenarios evaluated: 4
Number of experts evaluating each user scenario: 1
Detailed report with all the findings
Detailed report – with all our findings, broken down by severity rating
List of recommendations – on how to fix each UX problem
Examples – of best UX practices, tailored to your needs
Heuristic Evaluation
2 weeks of delivery
Assess usability from a broader perspective of renowned principles for interaction design. Discover user flow issues, gain competitive advantage, and get tailored to your website actionable recommendations based on recognized Nielsen's usability principles (Usability Heuristics).
Key steps & deliverables
User scenarios evaluated: 4
Number of experts evaluating each user scenario: 2
User scenarios evaluated on predefined conditions
Summary of areas in which your app can be improved
Task evaluation sheets – broken down to validated heuristics on 0-4 scale
List of recommendations – on how to fix the indicated problems
Cognitive Walkthrough
3 weeks of delivery
Evaluate the learnability of your system and assess if users are able to complete their goals. Identify potential challenges your target audience might face when performing various tasks in your product in the form of usability or user testing reports. Receive identified points of friction as a prioritised list on a well-known System Usability Scale.
Key steps & deliverables
User scenarios evaluated: 4
Number of experts evaluating each user scenario: 3
Task completion scorecards – for every evaluator
Task completion scorecards – for every participant
System Usability Scale – an intuitive scale giving a global view for each user activity
"Reflecting on the user's experience while using the app step by step enables us to really empathise with your target audience. While conducting the usability audit from the expert's perspective, we can find as many friction points in the product as possible and set the right development process goals and milestones. Implementing the first UX recommendations can result in quick fixes that significantly increase user satisfaction and bring more money to your business."
Kamil Matuszewski – Design Team Lead
Reinvent the business value of your product with an award-winning UX audit agency
UI designers and UX experts from Miquido combine know-how with years of experience to make the best out of your product. With a set of UX solutions tailored to your project, we improve your product's performance, usability, and UI design, which have a positive impact on the surge in conversion and sales and bring new insights on your digital product's performance that can elevate the user experience of the whole digital product.
Redesign a product based on best usability practices
Identify friction points in user behaviour that inhibit conversion and make sure that your product's design is compliant with industry standards and trends.
Hire experienced UX experts to create product metrics
Develop your digital product with user experience in mind and well-established product metrics that will guide your web or mobile application toward market success.
Receive UX guidelines for your product validation process
Validate your product and ensure its flexibility in making changes without sacrificing time in development. Get valuable insights and hypotheses for the A/B tests.
Get to know our work process
1

Scoping session

2

Conducting the UX audit

3

Report with priorities

4

Recommendations implementation

5

Ongoing support
Scoping session
The first step in the UX audit is understanding the stakeholders, business goals and user needs. This involves gathering information about the company's objectives, target audience, existing user research, and any other relevant data to understand what your business is trying to achieve.
Conducting the UX audit
The next step involves conducting the actual audit, which includes assessing the usability of the website or application, providing references to best practices, and presenting recommendations for improvement.
Report with priorities
You will receive a detailed report that summarises the findings and includes priorities for an app or web application improvement.
Recommendations implementation
The final step is implementing the recommended changes and improvements to improve the user experience. This may involve redesigning the user interface, improving navigation, or optimising site performance, among other things.
Ongoing support
After the UX audit is complete, and the recommended changes are implemented, we offer ongoing support from our UX experts to ensure that your app or web' user experience improves over time.
UX audit service FAQ
How long should a UX audit take?
A UX audit can take around one week for the expert review, two weeks for website heuristic evaluation, and three to six weeks for the cognitive walkthrough. The time needed for the user experience audit depends on the web page or application's complexity and the product's development stage.
How much does a UX audit service cost?
A UX audit cost depends on the complexity of your webpage or application. If you decide to take the small package, the Expert Review scope can take around $1,650. For the Heuristic Evaluation, the price is around $3,300. The most complex UX audit, the Cognitive Walkthrough, evaluates a system's learnability and costs around $7150 as it requires additional experts' recruitment and preparation.
How are UX reviews conducted at Miquido?
A UX audit usually starts with a stakeholder interview and goals definition. Our experts need to understand your business and learn more about your customers. Using specific UX design tools and practices, we deliver the final report with expert recommendations and suggested quick fixes.
When do I need to review my website's UX?
According to UX experts, the audit can be set and done at any stage in your product design cycle. It should be performed after a major redesign or user flow changes to ensure they meet the standards criteria and contribute to improving the product's user-friendly environment.
What do I get after a UX review?
You will receive a full final report indicating all the errors and friction points. For each discovered issue, we include our expert recommendation on dealing with each and every case and what hypothesis for the A/B tests you should take under consideration to validate the proposed solution.
What are the benefits of conducting a UX design review?
The main benefit of a User Experience (UX) Audit for your company is that when the user experience is designed effectively, it improves everything you care about, from registration to sales. As the Forrester Research Group estimates, the ROI for UX projects is 930%, as it allows you to recover from critical errors before committing workload to further implementation phases.
Why choose Miquido for UX audit services?
Miquido isn't just a UX agency but one of the top-rated mobile development companies with experienced design experts onboard. Thanks to that, our UX experts have the necessary experience in usability testing of digital products at various stages. We provide UX audit services for startups that are willing to scale their solutions and improve MVP in the right direction, as well as scale-ups and enterprises that need to meet very specific design and UX standards to sustain their position on the market.
Consult our UX Audit Experts
Fill out the form – we will get back to you shortly.
The controller of your personal data is Miquido sp. z ograniczoną odpowiedzialnością sp.k. with its registered office in Krakow, ul. Zabłocie 43a, 30-701 Kraków. We process the above information in order to send you messages containing commercial, business and marketing materials.
The basis for the processing of your data is Miquido's legitimate interest – informing customers about news and changes to our offer as well as providing information about products that may be useful in their business. You can unsubscribe from the marketing communications at any time. You also have the right to access data, the right to request rectification, deletion or limitation of their processing, data transfer, the right to object, as well as the right to lodge a complaint to the supervisory body. Full information about processing of personal data can be found in the Privacy Policy.
more
They trusted us