Digital transformation consulting services
Elevate your business value with Miquido's digital
transformation & consulting services
Let's work together


Scale your business through digital transformation solutions
Rewire your business with digital prowess and build a long-term competitive advantage. Select custom digital transformation solutions designed to enhance customer experience, lower costs, and improve organisational efficiency. Integrate artificial intelligence, data science, and software development innovations to generate accurate business insights and adapt to the evolving market, economic, and technical conditions.
How can you benefit from digital transformation consultancy?
Digital transformation consulting is a process that involves a fundamental reconstruction of the way an organisation operates. It requires a long-term change in thinking about innovation, technology, and business development. Digital transformation solutions allow companies to make informed business decisions and support change management. As a result, digitalised firms can survive and thrive in times of economic uncertainty. Explore how digital transformation can maximise your business potential.
New business opportunities
Digital transformation will provide you with new skills, technologies, and experiences that can be applied in other industries and markets. This gives you the chance to expand your existing activities without much difficulty. Moreover, transformation will allow you to experiment with new revenue streams, such as eCommerce, digital subscriptions, and cloud services.
Robust competitive advantage
Digital transformation consultancy often begins by replacing inconvenient, manual procedures with purpose-built software. By leveraging modern reporting and digital dashboards, you will optimise your resource allocation, resolve issues promptly, and respond swiftly to customer demands. This will enable you to gain a competitive edge over your non-digitised competitors.
Efficient data analysis
Digital transformation solutions will empower you to collect, analyse and exploit data efficiently. Leveraging quantitative information will help you make informed decisions that propel your business towards growth and success. With predictive and prescriptive analytics, you will anticipate future customer requirements and purchasing trends and be able to take proactive actions to meet market expectations.
Increased productivity
Provide quick access to organisational resources, information, and documents, regardless of their physical availability. Employ digital transformation to improve employee retention and maintain productivity and satisfaction. Take care of your digital talent pool and foster a positive work atmosphere to promote engagement and drive long-term success in your organisation.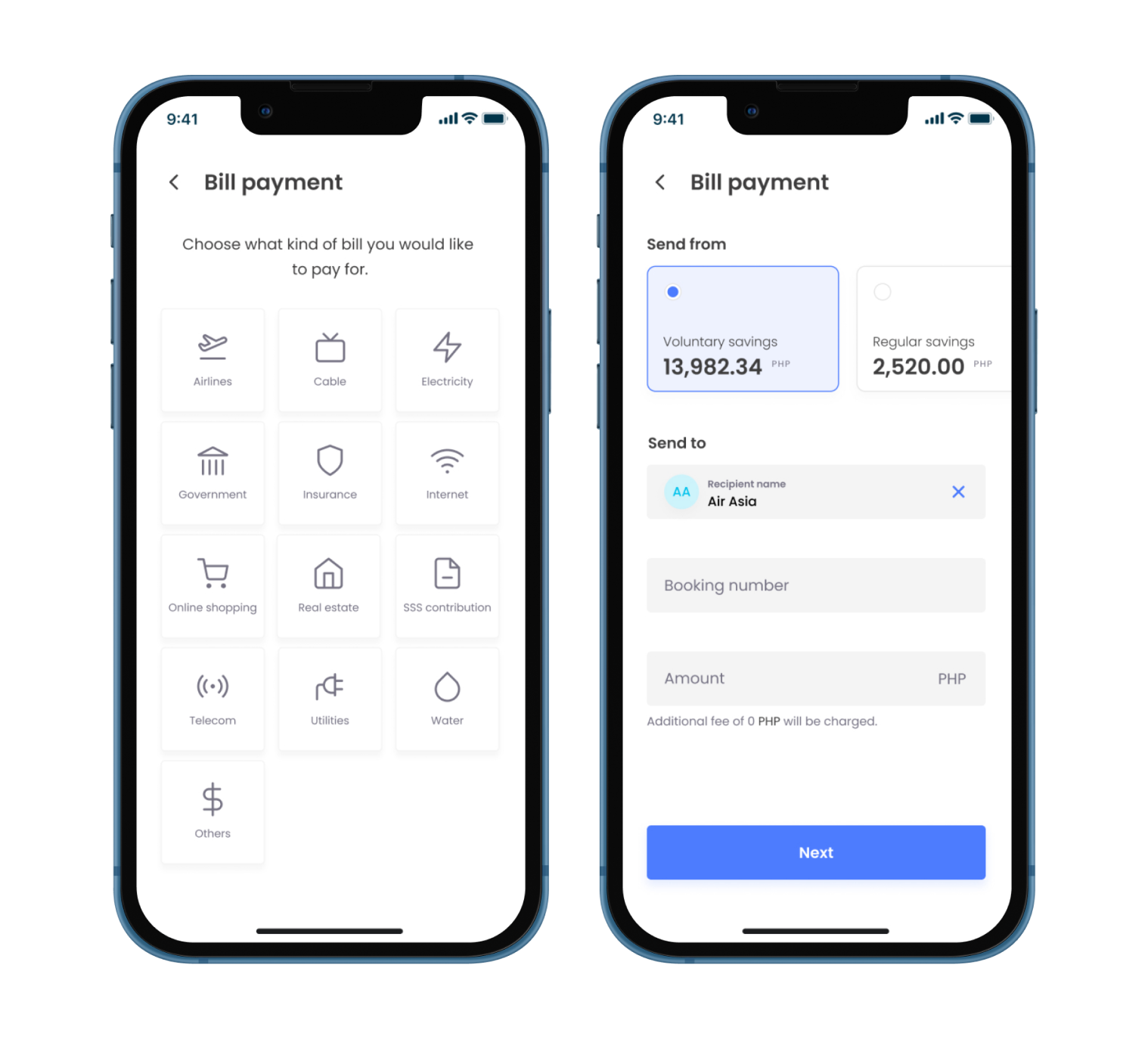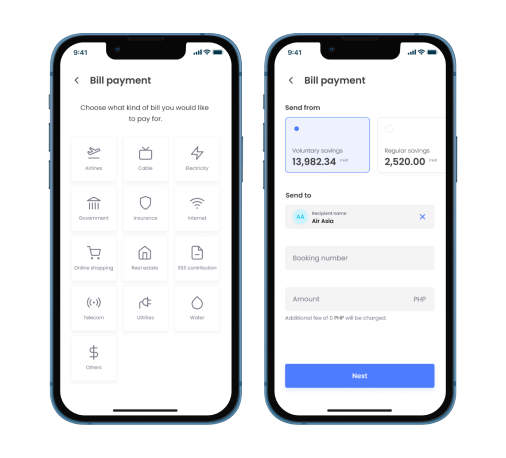 Case Study: AI-based credit scoring for Nextbank
Banks Using Nextbank Mobile Banking
2020 Singapore Fintech Awards
Digital transformation consulting services
A skillful digital transformation touches every aspect of the business and technology strategy, relying on grounded, up-to-date research every step of the way.
AI transformation
Incorporating artificial intelligence solutions into your business can help you optimise long, expensive, inefficient operations. Our team can guide you through the seamless integration of AI into your business strategy, providing essential competencies and resources, including a clear strategy, digital talent pool, and scalable organisational model. Implementing cutting-edge AI tools such as machine learning, data science, computer vision, and voice assistants will allow you to automate repetitive tasks, enhance productivity, and reduce costs.
New systems implementation
Shepherd a technical innovation into routine use, supporting the development of business opportunities in your organisation. Extend your mobile application to a new environment, adopt custom features to help it stand out in the market or offer a completely new product under your brand name. Develop a clear digital transformation strategy that outlines your vision, priorities, and roadmap, and swiftly implement new technologies such as IoT, blockchain, AI or cloud computing.
Software update
The digital technology landscape constantly changes, making yesterday's cutting-edge solutions outdated. Digital transformation services can help businesses update their architectural framework codebase and integrate the latest technological advancements, giving them a competitive edge. Modernise your existing infrastructure or translate your software into a new programming language to reduce operational costs, streamline maintenance processes, and follow industry best practices.
What makes Miquido a leading digital transformation agency?
In today's fast-paced business environment, digital transformation is essential for companies to stay competitive and grow. However, developing an appropriate strategy requires significant effort, experience, and up-to-date knowledge of various fields such as technology, business, and marketing. If you're seeking help with your digital transformation, take a look at how Miquido can assist you in gaining a competitive edge.
AI development experience
Miquido is one of the pioneers in the field of AI development. With over 5 years of experience, we have provided cutting-edge enterprise digital transformation solutions based on AI, including computer vision, machine learning, deep learning, data warehousing, and architecture for AI models. Our clients include renowned companies like PZU, SBAB, Which, and Step. The dedicated AI unit constantly explores new technological and business opportunities for our partners.
250 projects delivered in 12 years
Over the past 12 years, our teams have contributed to creating over 250 innovative digital products for brands such as Warner, Dolby, Skyscanner and TUI. We are an experienced digital transformation agency, certified by Google and recognised as one of the best mobile application providers in the UK, that helps companies just like yours adapt to the ever-accelerating pace of digitalisation.
Full-cycle digital transformation agency
Miquido is a software agency with a holistic approach to developing digital products. Our software agency offers digital transformation consultancy services that cover a wide range of fields, from business strategy and product design to full-stack development. We ensure that our solutions will provide value to your business and users and will be adaptable to market realities in the long term. Whatever services you require, we'll work with you to deliver the best possible outcomes.
Get to know our work process
1

Scoping & estimation

2

Workshops & preparation

3

Design & development

4

Product release

5

Ongoing support
Scoping & estimation
Understanding your business needs and getting to know your idea is crucial for getting started. We identify the scope of your project, go over the features you want to include, and pick the best solutions for your cross-platform app. If all goes smoothly, we'll decide on proceeding with Flutter or React Native and provide you with an estimated development time. At the end of this phase, you'll receive a general quotation and development schedule.
Workshops & preparation
We offer a variety of workshops depending on the stage of your project and each of them is tailored to fit your unique needs: whether you wish to focus on UX/UI features of your application, to get a deeper understanding of all its technical aspects, or to improve the overall business strategy for your product, you can be certain we'll provide you with the best team and flawless execution. By the end of this phase, we'll have prepared product wireframes, gathered development requirements, and have gone over the basic documentation for the project.
Design & development
Let's get some coding done! This is where we set up the backend architecture of your app, finalise the designs, and develop your frontend solution. We pride ourselves on web and mobile applications that work on every screen: from tiny 4-inch mobiles to large kiosk devices using the best RWD patterns. On average, it takes us up to 3 months to create a fully functional MVP – a minimum viable product. However, every project is unique and the final development time depends on the app's scope and complexity.
Product release
With the MVP ready there's nothing left to do but to see how your app performs with real users! We'll take care of the deployment and release, making sure that every individual part of the system is delivered on schedule and works smoothly, without any downtime.
Ongoing support
Once your application is live, we are ready and willing to provide ongoing support. If you decide on a few extra features or changes, we'll get straight to work. We'll also take care of all the necessary system updates if needed. Finally, if you choose to entrust your app to your in-house team, we'll help you plan the process and pass it on in the most effective way possible. We aim at building long-term partnerships, so we want to see you succeed as much as you do!
"Miquido's overall professionalism, knowledge, and support make them a great company to work with."
Software Product Manager, Herbalife
Our clients win recognition across industries
Still lacking clarity?
Get your answers now!
What are the areas of digital transformation?
Digital transformation covers many different areas depending on the specific needs of a given business. Based on client demands and market research, some of the aspects covered by the process include, yet are not limited to:
Legacy software modernization
Implementation of new tech solutions
Product UX/UI design/redesign
Product ideation and strategy
With Miquido, you get an all-inclusive experience by working with one vendor. It means you can transform every aspect of your product with a single team of experts!
When does my business need digital transformation?
The short answer is when you want to get the competitive edge and thrive in the digital era. However, digital transformation is a must-have in various scenarios:
If you've noticed your customers migrating to online platforms, expecting seamless digital experiences, and craving convenience, that's a big red flag. Embracing digital transformation allows you to enhance customer satisfaction.
If your competitors leverage digital tools, data analytics, and innovative technologies to gain a competitive edge, it's time to catch up.
In the digital realm, data is king. With digital transformation, you can collect, analyze, and derive valuable insights from the wealth of data at your fingertips.
Manual processes and inefficient systems can drain your resources. You can automate repetitive tasks to reduce costs or increase efficiency through digital transformation.
Digital transformation opens doors to new market opportunities and revenue streams. You can reach a wider audience and diversify your business offerings by embracing e-commerce platforms, digital marketing strategies, and online marketplaces.
What are the key steps involved in a successful digital transformation?
Step 1: Innovation
This step is all about exploring emerging technologies and brainstorming fresh ideas. Embrace innovation and think outside the box. Identify areas in your business that can benefit from new, creative solutions. Remember, you're not in this alone! By working together, you'll tap into diverse perspectives and harness the collective brilliance of your team.
Step 2: Experience
Try to put yourself in your customers' shoes and focus on delivering exceptional experiences. Understand their needs, preferences, and pain points. Then do anything you can to meet those needs.
Step 3: Infrastructure Modernization
Now it's finally time to give your infrastructure a digital makeover. Assess your existing systems, processes, and technologies. Identify what needs to be modernized or upgraded using trending technologies.
Step 4: Measurement and continuous improvement
Leverage data analytics and insights to better understand your customers, processes, and outcomes. Remember, however, that digital transformation is not a one-and-done endeavor—it's a continuous journey of improvement. Stay connected with your customers, listen to their evolving needs to adapt your strategies accordingly.
Why is digital transformation necessary for my business?
In today's dynamic world, change is the only constant. Technology advancements and emerging market trends can break a business. Digital transformation equips you with the flexibility to adapt to changes swiftly.
Remember that your customers are at the heart of your business. Digital transformation enables you to meet their ever-evolving expectations. They crave personalized experiences, seamless interactions, and convenience across multiple channels. Furthermore, by embracing digital tools, you can engage with your customers in a more targeted and personalized way to build exceptional customer experiences.
It is also worth mentioning that digital transformation isn't just about survival. By embracing digital technologies, you gain a competitive edge. You get the chance to differentiate your brand or expand into new markets. Digital transformation opens doors to growth and positions you as a forward-thinking leader in your industry.
Last but not least, digital transformation empowers you to harness the power of data and turn it into actionable insights. By collecting, analyzing, and interpreting data, you gain a deeper understanding of market trends and operational performance. These insights drive informed decision-making, enable targeted marketing campaigns, and uncover untapped business opportunities.
So, set your sights on digital transformation, embrace the winds of change, and steer your business towards a future of growth, success, and endless possibilities!
How can I measure the success of my digital transformation initiative?
Like every business goal and process, a digital transformation strategy should rest upon some SMART KPIs. That said, many measurable markers can help you track your progress and the overall effectiveness of the transformation campaign. Here are the most common ones:
Changes in your revenue before/after the digital transformation implementation: One of the most tangible metrics is to assess the changes in revenue before and after the implementation of transformation initiatives. Monitor your financial performance, comparing pre-transformation and post-transformation periods. Look for signs of increased sales, improved customer retention, and expanded market reach.
Operational improvements resulting in increased productivity of your app/website: Digital transformation should enhance your operational efficiency and boost productivity. Are there measurable loading times, response rates, or transaction speed improvements?
More positive customer experience: Your customers are the ultimate judges of your digital transformation efforts. Seek direct feedback through surveys, interviews, or customer satisfaction metrics.
Changes in the number of users: The number of users engaging with your digital platforms is crucial to your digital transformation's success. Monitor changes in user acquisition or retention to understand the impact of your digital transformation on user engagement.
Let's talk about your next digital transformation project
Fill out the form – we will get back to you shortly.
The controller of your personal data is Miquido sp. z ograniczoną odpowiedzialnością sp.k. with its registered office in Krakow, ul. Zabłocie 43a, 30-701 Kraków. We process the above information in order to send you messages containing commercial, business and marketing materials.
The basis for the processing of your data is Miquido's legitimate interest – informing customers about news and changes to our offer as well as providing information about products that may be useful in their business. You can unsubscribe from the marketing communications at any time. You also have the right to access data, the right to request rectification, deletion or limitation of their processing, data transfer, the right to object, as well as the right to lodge a complaint to the supervisory body. Full information about processing of personal data can be found in the Privacy Policy.
more
They trusted us