Entertainment app development company
Promote innovation, reach new business goals, and delight your users with tailored entertainment apps
Let's work together


Entertainment app development services to attract users on a global scale
Provide your users with unforgettable music, video, social, or travel experiences contained in custom mobile and web apps. Use fierce AI solutions and cross-platform frameworks to maximise the performance of each screen or function and bring your ideas to life fast and efficiently. Choose an entertainment app development company experienced in creating million-user apps for TUI, Skyscanner, Dolby, Warner or Abbey Road Studios, and rock the industry with your unique product vision!
How can your business benefit from entertainment app development?
Showcase your creativity, take care of customers and watch your business steadily and gradually flourish. Entertainment mobile app development can help you differentiate yourself from the competition, increase your reach and maximise your revenue by unlocking the full potential of your product. Take advantage of a well-designed software development strategy, and lead your users along a carefully designed path to increase brand recognition, deliver memorable user experiences, and develop new revenue streams.
Increase customer engagement
Build delightful mobile and web apps to ensure you're covering critical customer touchpoints and grow your consumer base. Design engaging user experiences supported by detail-oriented UI with micro-interactions, advanced haptics and motion design to keep your users coming back for more. Use AI-based personalisation engines, gamification and social sharing features to successfully expand your reach.
Develop new revenue streams
Monetise your social, music or video streaming application by in-app purchases, subscriptions and advertising space. Benefit from your user base while adding value to the user experience, and create a steady stream of revenue based on predictable subscription models or paid upgrades. Take advantage of product design and consulting to create user flows that capitalise on your ROI.
Build brand awareness
Enhance brand visibility and reach new audiences through captivating, recognisable digital experiences. Incorporate branding elements like logos and colours into the app's design to create a cohesive identity across your communication channels. Generate organic exposure via viral features, such as games or photo filters, and social media integrations for seamless sharing.
Gain insights into customer behaviour
Understand your customers' preferences, interests, and pain points better with advanced analytics and data science tools. Effectively collect and process large amounts of data to gather accurate user engagement and retention insights. Monitor the effectiveness of your app's features to make informed decisions and improve customer satisfaction, minimise churn rate and drive stable conversions.
Improve customer loyalty
Entertainment app development makes it easier to deliver unforgettable branded experiences that drive repeat customers. Develop unique branded features that foster a sense of community around your application. Implement gamification, user-generated content, push notifications or loyalty programmes to encourage users to return to your product and engage with it more frequently.
Encourage legal content consumption
Mobile and web entertainment apps facilitate access to legal culture: books, music, movies and games. Availability, convenience, intuitiveness and competitive pricing of subscription-based applications encourage users to reach for reliable sources. By offering your customers competitive, exclusive experiences, you inspire them to choose legal over pirated content and ensure all money goes to artists, labels, and staff.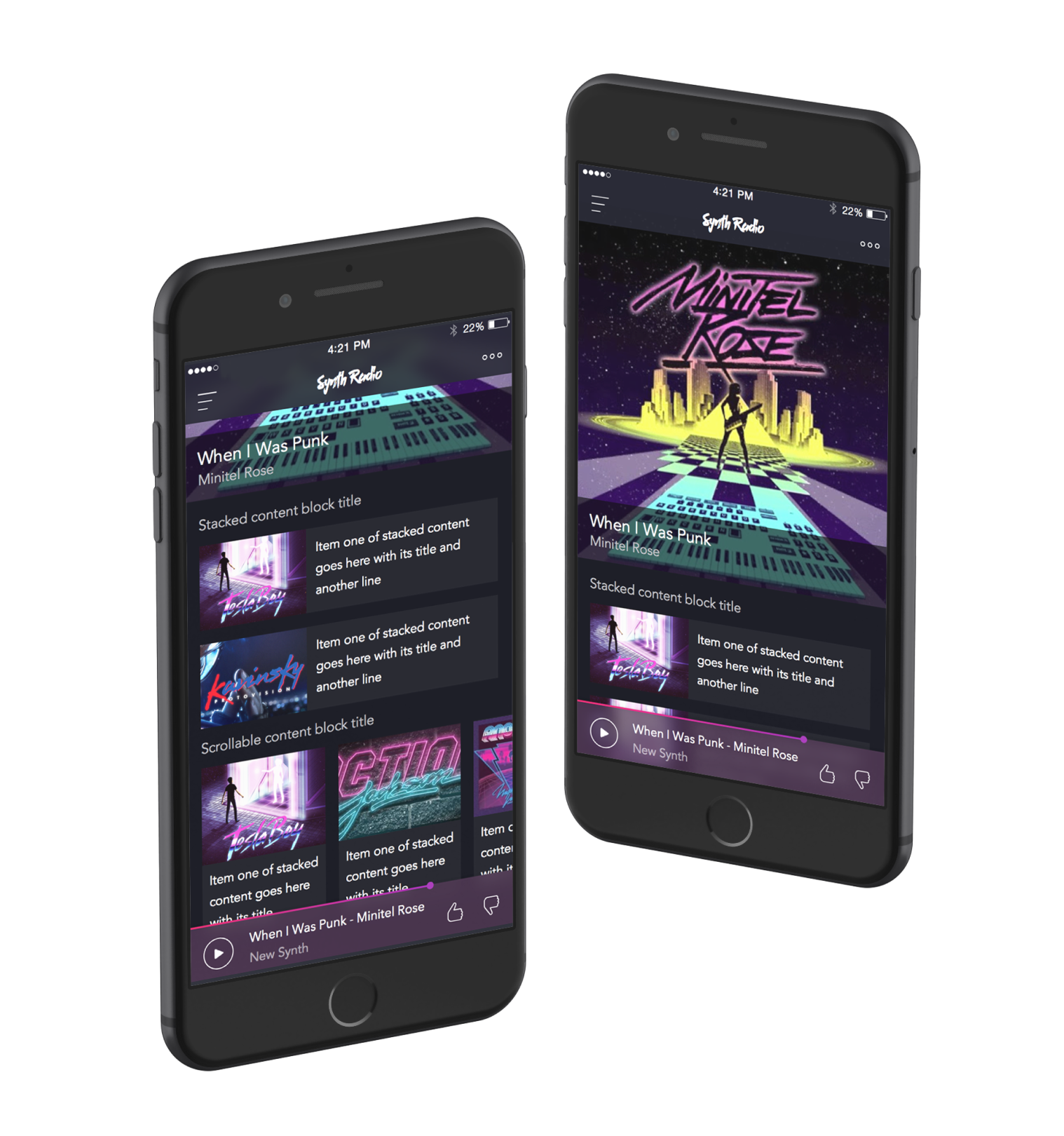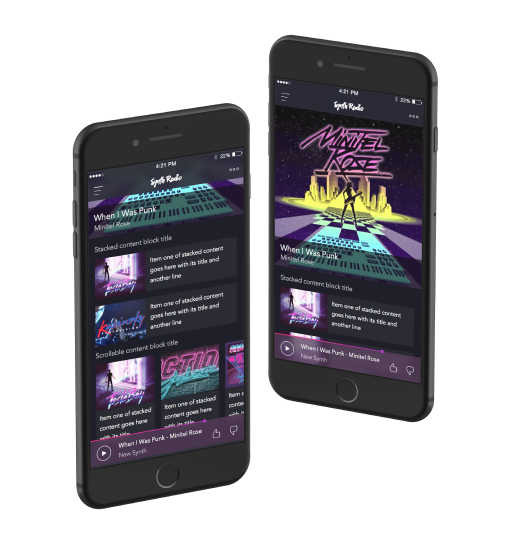 Warner Recorded Music: Internal conference mobile application
Warner Recorded Music is a collective that unities the most iconic music labels in the world. With a 60-year tradition of empowering distinctive brands, emerging talents, music makers and music lovers, WRM knows how to make the most of the creative process.
During the growth-fostering partnership, our team delivered a fully functional internal mobile application for iOS and Android devices. The intuitive conference app with FAQ, resources, and event agenda was built by cross-platform virtuosos in less than 7 weeks. Let's dig into the details of our hyper-effective teamwork. Are you ready for a replay?
for the iOS & Android app development
native-like app experience
Custom entertainment app development services by Miquido
Adjust the budget, plan and all application features to your business needs. Take advantage of the strategic support of product designers and strategists to plan the optimal software development process, allowing you to control every solution, tool and screen in your digital product. Adapt interfaces to your brand, create a future-proof software architecture that allows easy scaling and maintenance, and conquer the entertainment market.
Music app development
Launch your music streaming, discovery or social app and reach millions of users around the globe. From music libraries, playlist management and machine learning-based song suggestions to hi-fi music recording – compose your perfect digital product out of tailor-made features. Join the industry leaders like Warner, Dolby or Abbey Road Studios, who have already entrusted Miquido with entertainment app development services.
Social app development
Whether you want to develop a social media platform, an enterprise communication software, a simple messaging or interest-based mobile app, ensure your application is aligned with your strategic goals and target audiences. Bring your users closer and maximise their engagement while hitting your business objectives one by one. Design a well-structured app development process to quickly gain user loyalty and boost engagement with constantly refined app functions.
Video streaming app development
From reels and shorts to high-quality VoD: take advantage of the growing popularity of video streaming services. Ensure your streaming application provides convenient, stable, uninterrupted access to all video formats and supports a range of devices, including smartphones, tablets, laptops and smart TVs. Increase user engagement with personalised content recommendations based on viewing history and consumer behaviour.
Travel app development
Provide your users with comprehensive booking, rental and travel-planning solutions that effectively respond to their needs while supporting your business objectives. Facilitate booking flights and hotels with AI-powered customer support and chatbots. Provide personalised recommendations based on user preferences and travel histories. Stand out from your competition with real-time information on flight delays, cancellations or weather updates.
Fitness app development
Help your users meet their fitness goals while building your brand visibility and generating steady revenue through paid options and subscriptions. Implement activity and nutrition tracking, wearable device integrations, AI-based workout plans and extensive exercise libraries with step-by-step instructions and videos. Enable progress tracking and community support to keep your users motivated and engaged.
Event app development
Optimise event management and watch crowds benefit from your mobile application idea! Whether you need an all-in-one solution for mass events such as concerts, conferences and games or an intuitive internal system for effective event organisation, ensure your software runs smoothly and without delays. Improve attendee experience with a centralised platform for easy event information access, and collect data insights to enhance your product in the future.
Why choose Miquido as your next entertainment app development company?
At Miquido, we turn entertainment software ideas into real business gems. Our product designers, strategists and development experts help global leaders achieve commercial success in the digital industry, gain new revenue streams with PoC projects and leverage innovation to stay ahead of the competition. Choose a partner who prioritises your business growth, compares your idea with market realities and delivers unique digital products on budget and on time. Explore the reasons to choose entertainment app development services and contact us whenever you're ready to consult your idea.
Proven track record in working for global brands
In 12 years, Miquido has developed over 250 digital solutions for enterprises and exciting start-ups across 16 industries. Cooperation with the entertainment industry leaders is a vital part of our history. Our experts have worked with the travel industry pioneers like Skyscanner and TUI and renowned music companies, including Warner, Dolby and Abbey Road Studios. Our web and mobile applications have been noticed by Google, Flutter and Deloitte and regularly win prominent industry awards – including UK App Awards, Webby and Mobile Trends.
Full-cycle entertainment app development company
Entertainment app development services by Miquido cover everything needed to deliver a brand-new digital product or optimise an existing solution at every maturity stage. Our product designers, strategists and development experts carefully tailor tools and teams to your expectations. At the core of our software development process are personalised, iterative, agile methodologies focused on accelerating innovation, optimising costs and adapting your product to market realities in a long-term perspective.
Teams tailored to your needs
Miquido is an entertainment app development company with a holistic approach to developing digital products. Our primary goal is to deliver value to your business and users: we always tailor our services, processes and teams to your needs. Choose our all-in-one design, development services or individual solutions, such as UX audits or workshops. Work with a dedicated product design unit or expand your team in the Team Augmentation, outstaffing or outsourcing model.
Get to know our work process
1

Scoping & estimation

2

Workshops & preparation

3

Design & development

4

Product release

5

Ongoing support
Scoping & estimation
First of all, we'd like to learn about your product idea and identify the scope of your project. For that, we gather all the crucial info about your business goals and expectations. We discuss the potential features, tech solutions and time required to deliver them. By the end of this stage, we should be able to provide you with a general development schedule and an estimated project price.
Workshops & preparation
To make sure that your custom solution becomes a success, we put together a series of personalised workshops tailored to your needs. Sample workshops can focus on Data, Product design, or Strategy – you make the final call. After we've answered each other's questions and reached a common vision, we prepare the wireframes and the first design drafts, development requirements, as well as all the basic documentation of the project.
Design & development
This is when your idea truly comes to life! We finalise the UX/UI designs and begin the development of your web or mobile application. Keep in mind, that every project is unique so there's no one-size-fits-all way to tell how long it's going to take, but as a rule it takes us up to 3 months to create a fully-functional minimum viable product – your MVP. That is the version of your solution ready to be released to the market.
Product release
Your app is ready to be released to the market! After the development is complete, the MVP is tested, and every stakeholder is satisfied, we take care of the deployment and release. As time is of the essence during this phase, we make sure everything goes according to schedule and the entire process is as seamless as it gets.
Ongoing support
Your custom digital product is released, but our work doesn't necessarily end here. We pride ourselves in building long-term relationships with our customers; if you'd like to upgrade your product with some additional features over time, if there is a particular enhancement that you'd like to try out, or if you simply want us to take care of maintenance and support, we're always happy to help! In case you choose to let your in-house team to take over the project, we'll ensure the transition goes without any surprises.
"Our day-to-day
communication was seamless."
Phil Quigley, Client Operations Manager at 7digital
Our clients win recognition across industries
Entertainment app development FAQ
How can I be certain my entertainment app idea is good?
In the era of digital entertainment, coming up with a unique app idea may be challenging. However, while determining whether your app idea may be successful, it is worth considering some key factors:
Market analysis
As always, research is the key. It is crucial to determine whether there is a need for your app and who are the key competitors. It is always best to look for some areas you can fill with your digital solution, or even improve existing ones.
Target audience
Identifying the exact target group and its needs is the basis of any application. It enables you to determine key features and benefits for your future users. Well-identified needs are the key to success, as satisfied consumers are the goal of every business.
Feedback
Once you come up with the idea, it is worth gaining honest feedback from potential users. Conduct surveys, or gather focus groups to collect insights. You can also check whether industry experts provide a valuable point of view on your app's potential.
By considering all of these factors, you can better understand the potential of your app idea. As an experienced Ideation & Strategy team, we can provide guidance and support throughout the ideation and development process to help you bring your app idea to life.
What makes an entertainment app popular?
While there is no one-size-fits-all formula for creating a popular entertainment app, certain key factors can help your app stand out and attract users. If you look at the most downloaded apps in Google Play Store or Apple App Store, you'll quickly see that all apps for media and entertainment industry have several things in common. The most trending applications in 2020 are social media platforms such as TikTok, Instagram, Facebook, and Snapchat, messenger apps like WhatsApp and Facebook Messenger, video conferencing solutions – Zoom and Google Meet; and, of course, YouTube. What do they all have in common?
Every entertainment app should offer unique, engaging content that appeals to its target audience. It is simple – your app should have something users can't find elsewhere. This can help you gain user engagement.
Ease of use is essential for any entertainment app. People want an app that is intuitive, eye-catching and user-friendly. The user interface and design are crucial in every app, making it easy for users to find what they're looking for quickly and efficiently.
Social features are becoming increasingly crucial for entertainment software solutions. People want to stay in touch and share their experiences with those around them, which is why, regardless of whether you want to develop a next-generation Viber or a killer mobile game, it's wise to keep things social and let users communicate with each other while on your app.
Personalisation of the experience is vital to keeping users engaged. By providing personalised recommendations and tailored experiences, you can keep users excited about using your app. Another essential thing to consider is machine-learning-based recommendation systems. They let YouTube know precisely what videos you'd like to watch, Instagram can decide what images you're most likely to enjoy in the search tab, and TikTok builds its entire "For You" page around the same concept. Spice things up a little and add AI personalisation to the must-have entertainment app features list.
How much does entertainment app development cost?
The cost of app development can vary widely depending on a number of factors, including the app's complexity, the platform it will be developed, team size, number of features or the technology chosen.
The main aspects of the project that can help you estimate the average app price are the number of hours spent by each development team member on your order, their hourly rate based on the region, and the expected complexity of the application. Additionally, the costs can vary greatly depending on the type of entertainment app, whether it's a music app, video streaming app, gaming app, or something else entirely. Entertainment apps tend to be more complex, as they often involve media or interactive features that may require sophisticated technological solutions. Usually, developing an entertainment app can range from $50,000 to $300,000 or more.
That is why there is no universal answer to that question. Estimating total cost demands a custom approach to every solution to understand their unique needs and preferences. For more information on how much does it cost to develop an app, please check this article.
How long does it take to develop an entertainment app?
There is no simple answer here. The timeframe can vary depending on various factors, such as the complexity of the app, the features it includes, the number of entertainment app developers, the technology chosen, or special law requirements that need to be fulfilled.
All entertainment applications serve different purposes and, thus, are of different complexity in nature. On average, it takes us around 3 months to complete the Minimum Viable Product and launch the first version of your app across the mobile stores. However, developing a full version of an entertainment app can take anywhere from 4-8 months. However, this timeline can vary depending on the specific requirements of the entertainment app development project. For example, the development time may take longer if the app requires advanced features or technology, such as AI or machine learning. It is worth remembering that the development process typically involves several stages, including:
Ideation and concept phase:
The main purpose of this stage is to set objectives and challenges for your product, as well as its key features. This can take anywhere from several weeks to a few months, depending on the complexity of the idea.
Design and prototyping phase:
The design and prototyping phase involves creating wireframes and visual designs for the app. This can take several weeks to a few months, depending on the number of screens and the level of complexity of the chosen solution.
Development phase:
This phase consists of code writing and integrating any necessary APIs and backend systems. This phase can take several months to complete, depending on the size of the app and the development team.
Testing and debugging phase:
This phase is essential to ensure the app functions properly and is bugs-free. This phase can take several weeks to several months, depending on the size and complexity of the app.
Our entertainment app development company takes a very personalised approach to each client we work with, so we usually provide you with an estimated length of the development process at the early stages of project planning.
Let's talk about your next Entertainment app project
Fill out the form. We'll get back to you soon!
The controller of your personal data is Miquido sp. z ograniczoną odpowiedzialnością sp.k. with its registered office in Krakow, ul. Zabłocie 43a, 30-701 Kraków. We process the above information in order to send you messages containing commercial, business and marketing materials.
The basis for the processing of your data is Miquido's legitimate interest – informing customers about news and changes to our offer as well as providing information about products that may be useful in their business. You can unsubscribe from the marketing communications at any time. You also have the right to access data, the right to request rectification, deletion or limitation of their processing, data transfer, the right to object, as well as the right to lodge a complaint to the supervisory body. Full information about processing of personal data can be found in the Privacy Policy.
more
They trusted us