Top-class entertainment app development company
Promote tech innovation, reach new business goals, and delight your customers with tailored entertainment applications
Entertainment services to win over users globally
Rock the industry with a state-of-the-art entertainment application that leaves competitors behind and enchants your target audience. Choose our all-in-one entertainment mobile app development services and let us take care of your project from start to finish. Winning product strategies, exceptional UX and UI design, and foolproof app development let us turn business ideas into entertainment apps loved by millions.
Experienced entertainment software solutions
With 10+ years of experience in the game, we know all the tricks of the entertainment industry. See what we can do for you!
Tangible results, right on schedule
Need your idea verified fast?
years in remote
software development
digital solutions
delivered
of all projects
conducted remotely
Phil Quigley, Client Operations Manager, 7digital Our day-to-day communication was seamless.
Our development process
1

Project scope

2

Workshops & preparation

3

Design & development

4

Product release

5

Ongoing support
Getting to know your idea and needs
Project scope
The very first and one of the most important steps in our process is to hear your part of your story. We need to understand your needs and wants before proceeding with the project development. This is when you let us know if there are any specific features you want to have included. Then we move on to establishing the approximate time it will take to bring your idea to life and what technology will work best. This way, by the end of the first stage we are able to provide you with an estimated cost of the project and the app development schedule.
Setting up the stage for development
Workshops & preparation
The second step of our process is dedicated to the pre-development preparations. Here we also offer a workshop session – our custom solution to help you settle on the best product strategy, design, tech specs, etc. It's really up to you! Regardless of what topic you choose to work on, we will provide you with a dedicated team to help you out. Finally, we review the tech requirements and spot possible future roadblocks to the project. By the end of this bit, the wireframes of your app and the basic documentation of your project are complete.
Bringing your ideas to life
Design & development
It's time to develop your product! Of course, every product is unique and so the specifics will differ from one project to another, but the general structure usually remains the same. At this stage we set up the backend architecture, finalize your app's design, and write the code. As a rule, creating a fully functional MVP (minimum viable product) takes us around 3 months, but it all also depends on the complexity of the assignment and is discussed at the earlier stages. The length of this phase depends on the app scope and complexity. But in the end your app is up and running and is ready to be shared with the world!
Your product hits the market
Product release
Are you ready for the grand premiere? As soon as your entertainment app is complete, we take care of the deployment and release. Timing is crucial here: our team makes sure that every individual part of the system is released on schedule and works smoothly. Once your application is live, we provide ongoing support and maintenance.
Ensuring your success
Ongoing support
Now you decide what happens to your app next! If you think it needs extra features or changes – great! We start working right away, while keeping an eye on the current version. At the same time, if you decide it's time for your in-house team to take over the project, we'll help you plan the process and ensure everything goes according to plan.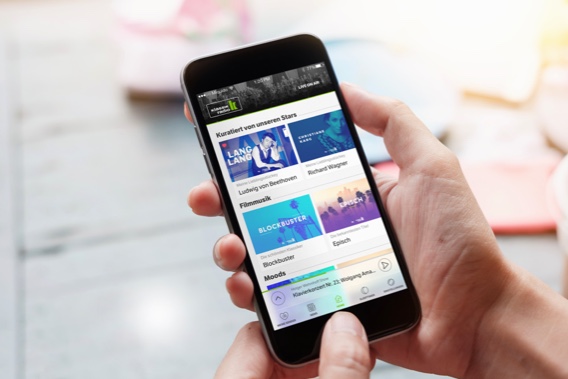 Custom entertainment app development
Struggling to find a solution that fits your expectations perfectly? Choose custom app development. We build our entertainment mobile and web solutions from scratch, starting with deep market research. We gather data-based insights and study your needs and business goals carefully to offer you a solution that fits like a glove.
What is there to gain? Recognizable design to help you stand out and build a strong brand. Scalability and flexibility that lets you adjust your product as your business grows. No unnecessary features, but a product that is tailor-made for you. A development schedule and budget adjusted to your business plan. Full application support and maintenance. And that's just to name a few!
Read about custom app development
More than just a mobile add development company
See your project come to life with cutting-edge technology
Browse our tech stack and choose the best solution for your next entertainment application, or let our experts pick for you!
Want to talk about your idea?

Hi, I'm Sławek, Account Executive at Miquido. Fill in the form to the right and we'll get in touch soon!
The controller of your personal data is Miquido sp. z ograniczoną odpowiedzialnością sp.k. with its registered office in Krakow, ul. Zabłocie 43a, 30-701 Kraków. We process the above information in order to answer your questions, contact you and conduct business communication, and if you tick the checkbox, to send you messages containing commercial, business and marketing materials.
The basis for the processing of your data is your consent and Miquido's legitimate interest.You can unsubscribe from the marketing communications at any time. You also have the right to access data, the right to request rectification, deletion or limitation of their processing, data transfer, the right to object, as well as the right to lodge a complaint to the supervisory body. Full information about processing of personal data can be found in the Privacy Policy
Show more