"With great power comes great responsibility". Everyone knows that one. It feels good to be in charge when doing your job perfectly well, but life is just not that easy, right? Sooner or later, a management failure happens to all of us, but when you are a leader, a manager, or basically any person somewhat responsible for the actions of others, all eyes will eventually be on you, looking for answers and solutions. There is also the pressure of sending the right message—failures might be bad, but not knowing how to deal with them is worse.

Every case is different. This is especially true when it comes to the IT business. There is no other field where changes happen faster and you need to adapt quickly to keep up. There's no way you can approach every one of your projects in the exact same way, especially if we're talking about a failure in management. There is always one common factor though—people. That's where it all starts and where it all ends and you need to work your way around that.

Here are 5 practical tips on approaching management and leadership failures, ready to use in your software development environment to keep you prepared for anything.
Scale the Agile Retrospective
Take time to analyse before you move on to your next project. Sit down with your team and think about what you delivered and what happened in the meantime. What worked out well and what didn't? What should you continue with and what was unnecessary?
At this point it might seem convenient to search for reasons at the superficial level. Was the project too difficult and complex? Were your co-workers not cooperative? Were the goals not clear enough? Maybe, but do yourself a favour and don't stop there. These answers might let you move on from the failure more easily, but you will not get any real insights from them. 
Try to search for the core of the problem. If you come to the conclusion that your issue was the people not getting involved as you wished they would, try and ask yourself why. Why wasn't it an issue before? How did you, as a leader, motivate them to participate before? What might have changed that results in your solutions not working anymore? Try to group and scale the risks that you had to face and those that might come back in the future and let yourself be prepared this time. 
This is also the right time to communicate with your team. Set up a meeting with your people and get some insights. Gather feedback—you might be surprised with how intuitive people can be about what works best for them. At this point, you might already see what went wrong. Maybe you gave your people too little, or maybe too much freedom? Do they need a strong leader, or maybe a more democratic solution? Reflect on the process together (in Scrum, for example, the Sprint Retrospective is a great opportunity to do that). Mark the possible risks and opportunities to learn from the experience. Set related goals for the future and check on them every once in a while. Maybe you'll manage to come up with a failure management plan for the future?
Understand how you achieved success
Coasting, especially after a big success, might give you a pleasant feeling of security, a job well done and might feel like a well-deserved rest, but try not to let yourself settle. Don't get trapped by thinking "great, if it worked once, it's going to work again". 
Let your failure make you focus on the process. A major setback is like a wake-up call. Give yourself space to understand what went right and what went wrong. Also, pattern recognition is the key. Analysing your failure gives you the experience to recognise and grasp the future possibilities for success. The setback helped you find your weaker areas, so take advantage of the opportunity and put yourself one step ahead by working on them and turning them into your strengths.
Consider the people factor
You might come to the conclusion that your managing style is perfectly correct, just not right for your team. It is your responsibility to inspire and empower your people, but the way you go about it matters. It might be a young team full of fresh minds that needs a strong, even somewhat autocratic leader, or a group of highly experienced professionals that just craves some guidance and inspiration. 
You might not be able to oversee what's coming next, but you need to know your people. And remember that your team is going to evolve. As people become better and gain experience, their needs and goals change. And you need to be flexible enough to make your solutions work for your people, not the other way around. If you don't, it's probably going to cost you more setbacks in the future.
Keep the process in mind
Failure hurts, but there is one way to make it work for you, by reflecting on it and learning from it. When a failure happens, you, of course, need to fix it. But do not confuse it with the 3F approach: "Fail. Fix. Forget". Although it may sound like a cliche, in most cases a management failure is also a learning and growth opportunity. Unless you decide to instantly move on and immediately forget – then it stays just a failure. Try to review the process:
Which strategies worked well and why?
What do you think went wrong on your side?
What was your impact on failure?
Were there any things that you could have seen coming?
Where should you have acted differently?
How can you improve your management style for the future based on that event?
As a leader, you have the privilege of understanding the failure process better and seeing it as a whole. Be sure to make it work for your benefit. Remember that not many other things will give you as much know-how and management experience as a failure does since it gives you a chance to understand better what people expect from you as their leader.
Look in the mirror
This is where your ego might suffer, but you need to take a close look at yourself in order to avoid similar mistakes in the future. Don't let your mistakes own you—you own them. What you need to do is learn to extract yourself from the whole process. Failing at a certain task doesn't mean that your management methods or skills are irrelevant or you are not good enough at your job. Look at the big picture. You might want to ask for anonymous feedback from your supervisors or peers.
Remember to do regular check-ups. See if your post-failure strategy works and consider if maybe it just needs some adjustments. Observe how your people react to the changes you've made. And keep in mind that failure is an inevitable part of leadership – so learn your lesson and be prepared to fail again. 
Where is all of this coming from?
This October I attended Mobiconf, one of the biggest mobile software development conferences in CEE. Mobiconf is an annual event hosted by Miquido, a Google-certified software house based in Krakow since 2013. The purpose of Mobiconf is to bring together some of the most powerful minds in the mobile world, including designers, developers and leaders,  and pack as much knowledge and expertise into two days of talks, discussions and presentations. Mobiconf offers four parallel thematic paths—iOS, Android, UX/UI and Everything Mobile. 
The article was inspired by "Recovering from a major leadership failure" held on Everything Mobile path by Dawid Ostręga. Dawid has experience as a manager and consultant in an IT company environment and has worked for firms such as SKK S.A, EPAM System, IBM and SolarWinds. What Dawid himself explains as his "other life" is American Football, which he turned into his profession. He is captain of the University of Hertfordshire Hurricanes and captain of the Great Britain youth champions, but also a chairman, trainer and winner. Dawid is the winner of the Top Speakers Award on the Everything Mobile path of Mobiconf 2019.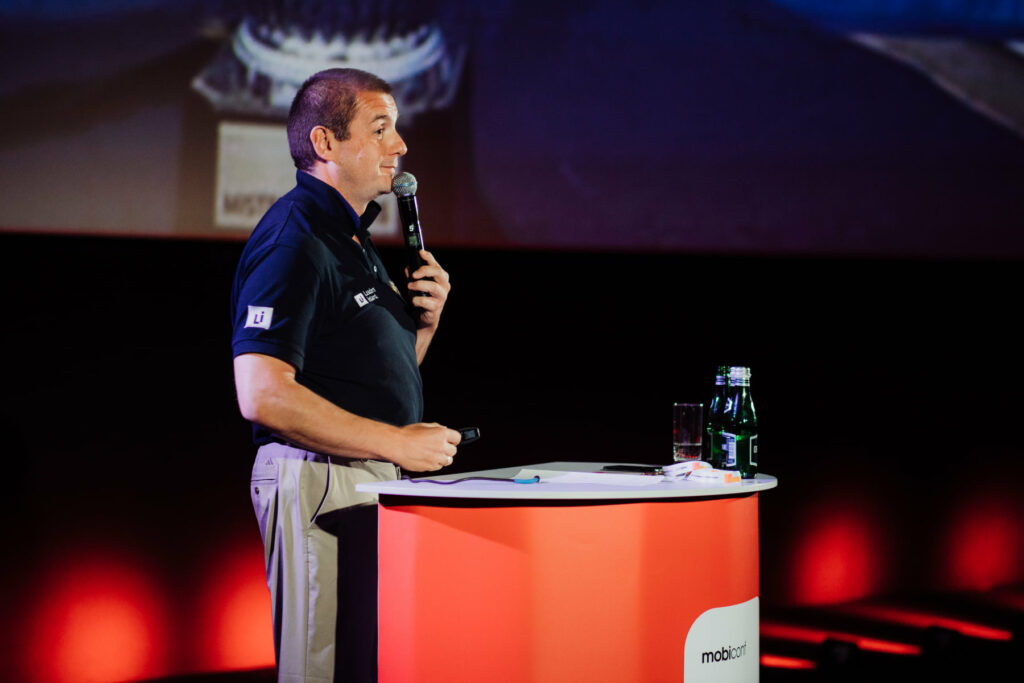 Read also: