People spend a lot of time on their mobile devices. Whether you need a mobile-friendly solution or not is no longer a question. The real question is which one you need. And, oh boy, is there a lot to choose from!
With mobile, web, cross-platform, hybrid, PWAs, and SPAs you really have a tough decision to make. And no, we are not talking about posh saunas with massage packages here. SPA is a very popular type of web application. But is it going to be the right one for you?
Keep reading and find out about all that and more. But first, are you sure that you even need an app? Maybe a good-old mobile-optimised website will do just fine?
Mobile app vs mobile website: the differences
An ideal product or service comes in all shapes and sizes to satisfy as many potential customers as it possibly can. Unfortunately, it may turn out to be counterproductive and financially suicidal to try to do everything at once. So it's always a good idea to carefully evaluate what you really need to avoid paying extra.
Let's take a quick look at what each app type has to offer to make the choice a bit easier for you.
Benefits of websites

There's nothing wrong with wanting to keep things simple and opt for a good-old CMS-powered website. After all, it still comes with many perks! Here are some of the most important benefits mobile websites bring to the table:
Higher reach: A website's compatibility is much higher than that of mobile applications. That's why users can easily access and share mobile websites regardless of their device types and operating systems.

Lower costs: It usually takes less time and money to create a responsive website. You can get an adequate landing page up and running by yourself in a matter of days thanks to numerous CMS tools available online. But try creating your own functional app by yourself and see what happens.

Better SEO: The main reason why business owners still choose to invest in website development has to be Search Engine Optimisation. The future may be now, yet there's really no better way to enhance your organic brand visibility than to stuff a web page with some relevant keywords.

Easier maintenance: Thanks to the previously mentioned CMSs and the generally simpler nature of websites, they require far less effort when it comes to updates, testing, compatibility, and overall support management. Apps, however, tend to get real complex real fast.
As you can see, all these factors can be very important to any company. And yet, for some reason, mobile users tend to spend 86% of their time on apps, rather than the browser.
Why apps are better than websites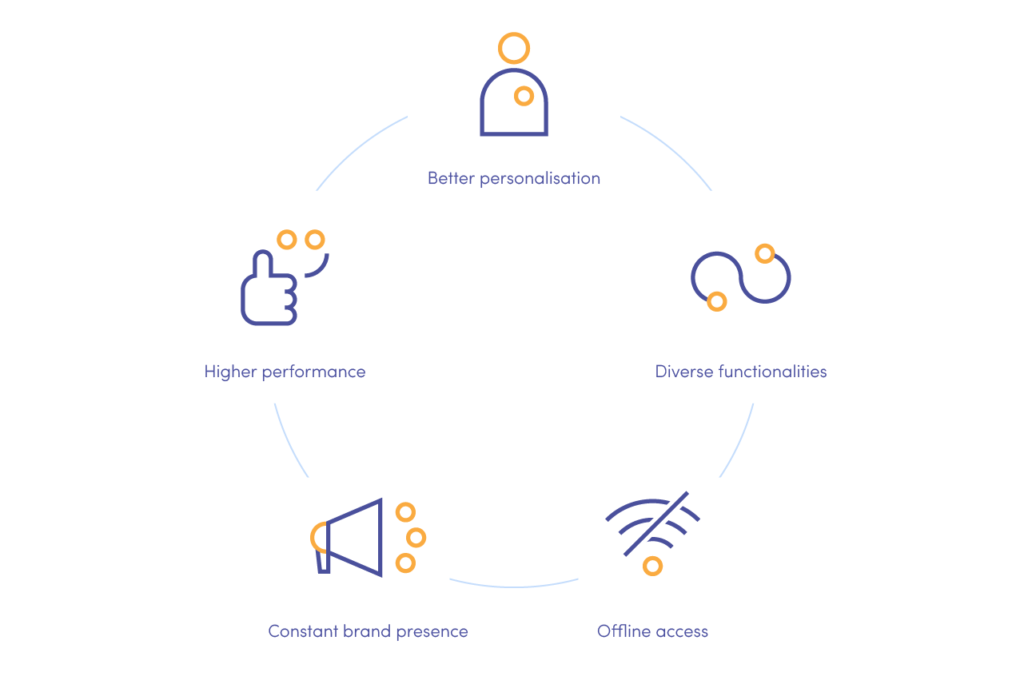 The thing is, all of the perks listed above are very business-oriented. You can cut costs and get your product faster, you get to reach more customers, spend less time upgrading your website…but what do you users get?
The grand revelation behind the success of mobile applications is that they somehow manage to level the field and bring something to both parties involved. Let's quickly list some key benefits they unlock:
Greater personalisation: Whether your app will ask users to complete their preferences upon sign up, or if it will learn based on user behaviour, personalisation is one of the primary functions that places mobile applications far ahead of websites.

Diverse functionalities: On top of high customisation, mobile apps are designed with smartphone capabilities in mind. That's why their functions often rely on common hardware like cameras or Bluetooth, as well as model-specific software, like biometric security or Voice Assistants.

Offline access: Another big user-oriented perk mobile apps offer is their ability to function anytime, anywhere, regardless of your Wi-Fi connection or cell network.

Higher performance: Most apps store data directly on a mobile device, resulting in them running faster and smoother, as compared to mobile-friendly websites. Besides, most websites rely on JavaScript, while apps are built with more contemporary and advanced frameworks.

Constant brand presence: Finally, by being chosen among all the competitors and downloaded to their device, your application is guaranteed to provide ongoing brand visibility, resulting in higher top-of-mind and better recognition, leading to higher conversions.