If you are passionate about everything mobile, you must've heard of Mobiconf! And if you haven't, what are you waiting for?
Check out the official website of the event or keep on reading to learn more juicy insights, behind-the-scenes, and simply little-known facts about the coolest conference fully dedicated to mobile applications.
What is Mobiconf?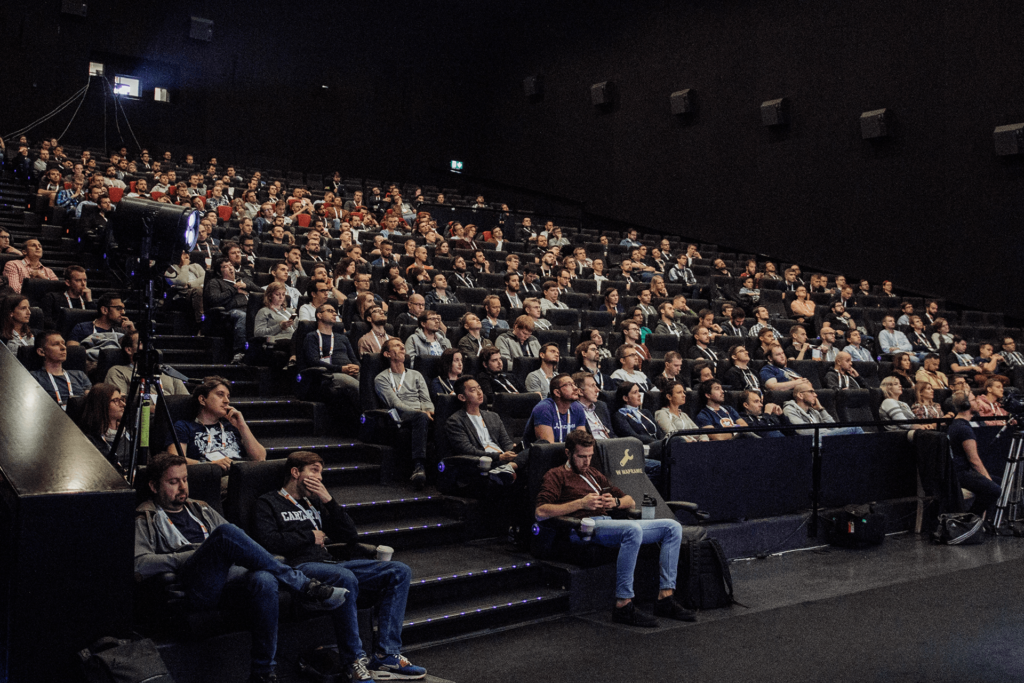 Mobiconf is awesome!
It's an annual mobile-centred event we've been organising for 7 years straight (except for 2020, because, you know, a global pandemic and all).
It's a 2-day conference where all the tech professionals and enthusiasts from all over the world connect, network, and share their priceless expertise in mobile application development.
This year's edition offers you 3 paths: Android, iOS, and Everything Mobile. We'll be talking about the best strategies for development alright, but also won't leave Project Managers and Business Developers behind. We might even sneak a couple of design-related topics even though it won't get its own path this year 😏
Who is Mobiconf for?
Just for you, silly!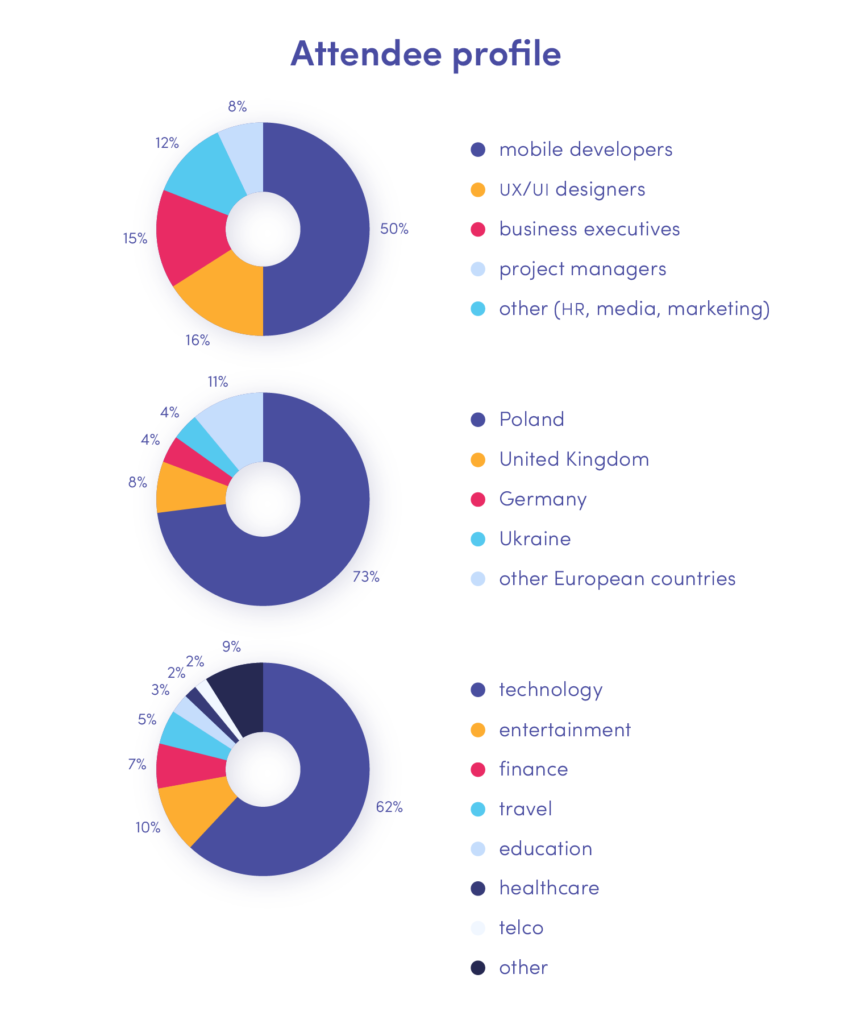 For many years now Mobiconf has been gathering hundreds of professionals from all kinds of fields under the same roof. Yet, some are more frequent than others.
Mobiconf is especially popular among mobile developers, UX/UI designers, project managers, business executives in search of a mobile vendor, as well as HR, marketing, and media representatives.
Couldn't find your occupation on the list? Don't you worry! Mobiconf is open to literally everyone who's passionate about mobile. So whether you're a student who's about to graduate in the following years or an experienced programmer – you'll find something just for yourself!
Why Mobiconf?
Because it's a party disguised as a conference!
Traditionally, we meet for these 2 days to learn and grow. But as you may know, Miquido's slogan is "Work hard, play harder" – and we live by that statement!
So, when attending, you can count on an extraordinary entertainment experience and smooth networking opportunities as well as carefully researched, crafted, and tested paths delivered by the top industry speakers.
But that's all pretty vague. And we, the tech crowd, love precision! So, here are some statistics from our previous editions: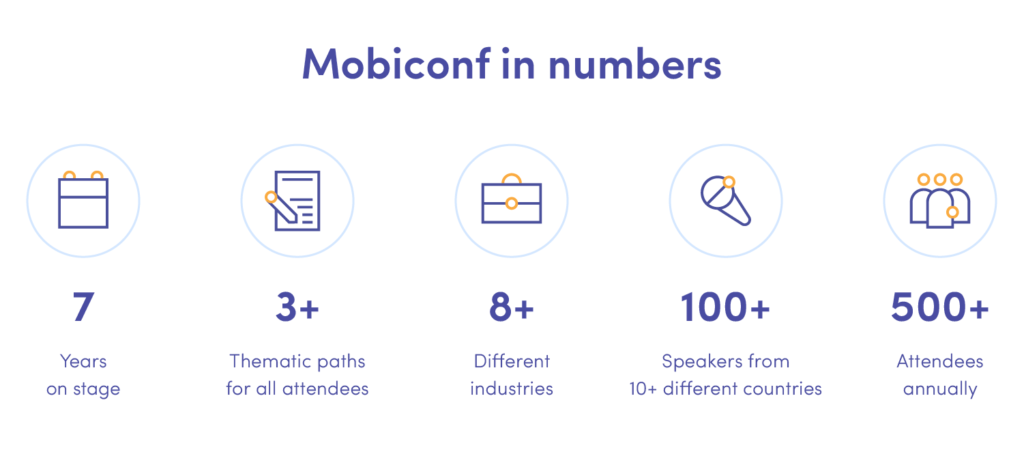 When is Mobiconf?
October 7-8, 2021 – save your seat!
Traditionally, we run our event early in the autumn. It's not too cold, not too hot, and Krakow is burning with October's hues.
More importantly, we are all well-rested after our summer holidays, children are off to school, and nothing stands between us and our thirst for a fresh dose of mobile knowledge.
Last but not least, October marks the beginning of an end for most businesses – the final quarter. We put our affairs in order and start searching for brand new opportunities to kick start the next year with something spicy.
What would be a better place to learn about mobile technology trends than among other like-minded mobile enthusiasts?
Where is Mobiconf?
You decide! The sky is the limit (as long as there's Wi-Fi)
That was a tough decision and still feels like a bit of a bummer, to be honest. Yet, we've made a responsible decision to carry out Mobiconf 2021 online.
Don't worry, though! We have been working hard to make sure your experience is as close to the previous years as possible and now we can promise that this will be the most live-like online experience you've ever attended!
You can learn about the undeniable superiority of virtual events right here.
But, we also come to you with a promise: as soon as the world is back to normal, travel restrictions are lifted, and we have returned to the safety of our environment, Mobiconf will be back offline, grander and better than ever before!
How much is Mobiconf?
You can't put a price on charity!
That's right: you won't simply purchase your ticket and watch the money sponsor our speakers' research. Instead, you will be helping children master the art of IT and mobile development.
We will donate 20 EUR from every ticket to Sarigato Foundation's "Hakersi" project.
Their mission is to help children and teenagers from orphanages, care institutions, and community centres learn new technology and develop digital skills to shape a better tomorrow.
Early bird tickets are available for sale – don't waste your chance!
What about Miquido?
We made it all happen!
7 years after the first edition we felt like it's the right time to share how and why a small software company decided to take up the ambitious challenge of launching an international event.
For us, Mobiconf is about the passion we share for mobile technology here at Miquido. Android, iOS, cross-platform – we've worked with them all, you name it.
As a business, we recognise the great potential of mobile technology, but as people – we are simply curious to see how far it can take us. And so, those 7 years ago, we realised that there's no better way to answer that question than to actually get all the mobile geeks under one roof.
That's Mobiconf in a nutshell.
We've worked with developers, designers, PMs, Agile leaders, marketers, business advisors – every step of the funnel a mobile app takes from being just an idea to actually landing in the end-users' devices.
Last year has shown that not only do we like Mobiconf – we actually need it. And seeing a similar reaction from so many of you made us positive that this year we simply can't sit back.
It's time to get back in the saddle.
Tune in on October 7-8, 2021 and join us at the most heartfelt mobile event of the year! Just make sure to book your ticket first 😉
And if you want to work directly with the founder of your favourite conference – this is your lucky chance!