A Digital Product Strategy allows companies to recognise business opportunities. Thanks to industry analysis, as well as our knowledge and experience gained over the years, we're able to identify emerging trends of the market.
Therefore, we can not only plan how to reach customers but also define and track business goals. In the following article, we'll reveal the benefits of doing these things, and our process for creating a Digital Product Strategy. Keep on reading to find out more.
Why is it worth creating a Digital Product Strategy?
A Digital Product Strategy is an undeniable necessity for every business. We created the service to make sure our clients will provide useful products to their customers. Among the most significant benefits of envisioning your product's future, we can list:
1. You have a clear understanding of user needs and business opportunities
By identifying the specifics of the market and finding your niche, you can take a customer-centric approach. That helps reach your target group more effectively.
2. You get high-level architecture and technology recommendations
Investing in the right solutions and emerging technologies pays off in the long run. It will ensure the long-term security and effective performance of your products.
3. You have a clear project roadmap that is broken down into phases
It's good to know in advance what objectives and initiatives you're going to introduce. Establishing the timeline for doing so enables optimisation of work, planning a project's budget. That way, you can effectively pitch your ideas to potential investors.
4. You reduce the risk of building the wrong product
Defining business goals at the very start and keeping customer preferences in mind can help you prevent product failure.
5. You make sure that your digital product aligns with your business
A defined strategy helps you keep in mind your business focus and holistic goals in order to get precisely what you need.
At the end of the day, it all comes down to saving time and money. This way, you can win the hearts of your customers and increase return on investment.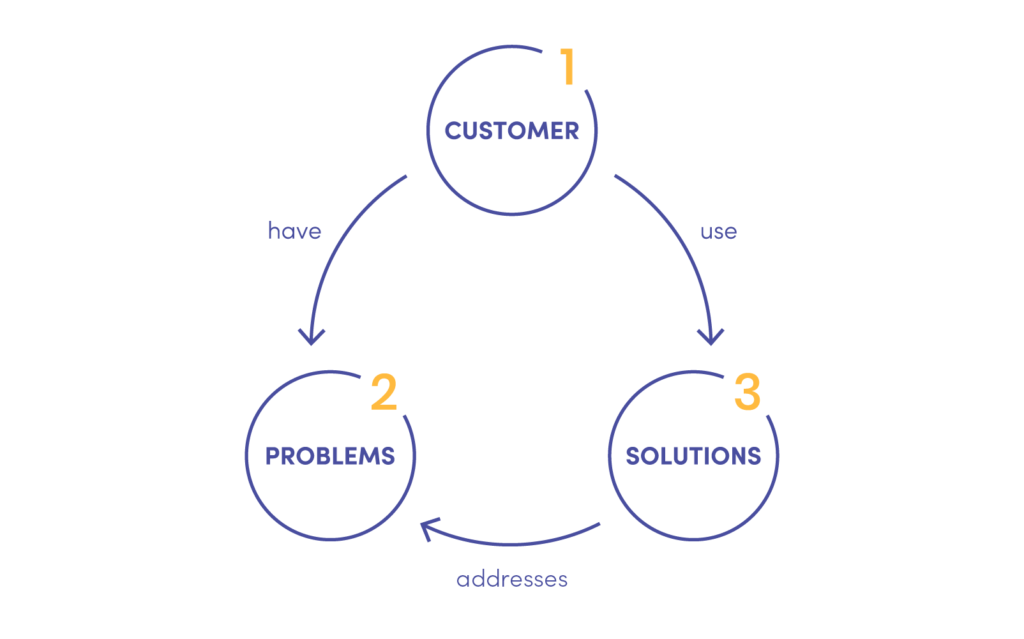 How to develop a Digital Product Strategy?
At Miquido, we offer product design and strategy services to help our customers shape their product vision and create fully usable digital products. If you have an idea for a digital product, we'll help you validate it in just a few steps. Read on to learn more about the process.
#1 Strategic expertise – learn about your business opportunities
The first step when creating a product strategy is to provide you with recommendations on market needs, business goals, and the scope of a minimum viable product (MVP). We look for trends, emerging technologies, and benchmarks, as well as conducting a technical feasibility review.
We consider a brand's story and narrative as crucial in developing a product aligned with their business idea and mission statement.
#2 UX research – define your target audience
Target market review, user research and customer discovery enable us to find out what the challenges of your users are and how many people can benefit from your digital product.
By exploring the market, we can identify the value proposition, key features, and differentiators that will help you stand out from the competition.
#3 Product workshops – find the best way to develop your product
During workshops, together we can answer crucial business questions, plan essential features and analyse technical opportunities. Thanks to brainstorming, we can inspire each other and come up with innovative solutions for your business. Therefore, we can minimise the risks when bringing a product to the market.
We provide a few types of workshops depending on the needs of our clients:
Product Strategy workshops – to verify an idea. We're focusing on Product-Market fit, defining risks, goals and user needs.
MVP Definition workshops – to generate ideas for the best solutions. We choose the technology background, prioritise features and define the MVP. At this stage we also present our workflow, so that clients can better understand our way of thinking and move towards working together.
Design workshops – to gain knowledge about user needs. Together we can create user stories to emphasise with them and define essential features. Prototyping ideas by sketching helps us to verify them in a fast and effective way. As a result, you'll be able to test a prototype of the main features or one main flow of the project.
Critique and Scalability workshops – to review and plan the future of your digital product. We revise assumptions and define improvements as well as discover scalability opportunities.
To benefit from all of the workshop types mentioned above, we can conduct a Design Sprint to verify your business idea quickly. During 5 days of workshops, our team can help companies to understand the problem, generate ideas and sketch solutions, discuss and define the main goal, create a prototype, and finally test and collect feedback from users. Additionally, we make sure that the idea is feasible and profitable.
Digital Product Strategy toolkit
When strategising, we use several tools to streamline the process. Among others, we can list tools such as:
Product Vision Canvas – to define your product.
Business Model Canvas – to describe, visualise, and change business models.
SWOT Analysis – to identify a product's strengths, weaknesses, opportunities, and threats.
Personas – to create a digital product with a specific user in mind.
Customer Journey Map – to visually represent every experience users have with your product.
Empathy Map – to gain deeper insights into your product's users.
As every business has different needs, we're flexible and we're happy to adjust our processes or tools to your digital product specifics.
Create a Winning Digital Product Strategy with Miquido
Our service Product Design and Strategy is a coherent process. We advise our customers before building a digital product, as well as providing such a service separately if desired.
We build the vision of a product that people actually need by aligning your business needs with user expectations. Shoot us a message here to create a Digital Product Strategy in just a few weeks.