Have you attended Mobiconf 2018 last week? Or maybe you missed it, and want to catch on to what've been happening?
If you couldn't join us this year or did attend the conference, but want to structure your learnings, keep on reading. Below, you can get a neat brief of Mobiconf talks, wrapped up from the perspective of a non-dev attendee.
The 5th edition of Mobiconf took place in Multikino, Dobrego Pasterza Street, Cracow. Over 500 participants gathered in the conference venue to participate in the event, broaden their horizons and share knowledge. As a Miquido marketing team newbie (4 days onboard so far), I've attended Mobiconf and joined the audience during both days of the conference.
The event included four tracks of thematic talks: Android, iOS, UI/UX, and Everything mobile. I've decided to swap between the last two themes, and share the learnings from the talks with the community of Miquido blog readers.
FinTech for millennials & early adopters: why the UI/UX + AI is game-changing
Speaker: Alexandra Petrus
FinTech is usually perceived as an alternative to traditional banking and presented as its substitute. But in her presentation, Alexandra Petrus explained that FinTech is not strictly separated from traditional finance.
To build FinTech, you need help from traditional finance experts" – says Mobiconf speaker. "You need their knowledge on what works on the particular market and what your users want.
Petrus emphasized that in FinTech, you don't need to resign from partnering with traditional banks. In fact, financial institutions should not be considered as FinTech companies direct competitors, as FinTech solutions do not rely on conventional banking systems, which makes them a separate category.
Digital currency is here to stay
The potential of FinTech is vast, and it's a direct answer to the needs of consumers, especially millennials and early adopters. In her talk, Alexandra listed some good practices to follow, if you want to develop a successful FinTech solution loved by its users:
Flag risky behaviors. Millennials appreciate when you educate them and care for the safety of their finance. Providing them with useful features (e.g., locking their app after some time of inactivity) gives them the sense of comfort and develops their trust in your product.
Observe active markets and test their apps. Petrus stressed the significance of Asian FinTech market.


55% of Chinese Internet users make mobile payments, vs. only 19 % in the US – the speaker says. To get the best insights, go to Asia and test Asian market – she concludes.

Pick up your audience. If you target millennials and early adopters, build your solution for them. Make your users feel secure and mind their needs.
Connect design elements to educate a user. build a UI that helps your users understand the top level context of their actions. Make sure your users have a deep understanding of how they're managing their finance with your app.
Build something meaningful, functional and usable. Whatever you do, remember that you're building an app to help out your users. Focus on your app's meaning and most wanted functions – In case of FinTech, these usually include Request and Payment functions.
A mobile device as a gate to Machine Learning world
Speaker: Miłosz Kaszyński
"On mobile, you can use any model of neural network"- claims Miłosz.
At the same time, AI on smartphones is still immature.
Deploying Machine Learning on mobile can be valuable if we consider some certain limitations, e.g., processing a small amount of data. Usually, only recent mobile devices are strong enough to work with your model, and the model itself needs to be very well trained in the initial deploy. Also, we can't ignore the common fears of using ML, which involves slow response times, device battery draining or associating Machine Learning systems with large and expensive GPUs.
The speaker advises treating mobile ML as support for systems. The recent problems are probably temporary, and they will force producers to develop better hardware for mobile operations. Kaszyński presented frameworks for training, stressed the importance of testers, and encouraged to use ML on mobile for simple tasks, depending on it as an extra validator.
Data-driven intuition
Speaker: Temi Adeniyi
Intuition is a crucial ability that guides us when making design choices. In her talk, Temi gave us thought of how to empower our design intuition with data and research.
According to Temi, intuition is often underestimated, as it's associated with blind guessing. She encouraged the audience to follow the hunch and investigate it, basing on qualitative feedback (competitive analysis, surveys, usability tests, etc) and quantitative data (e.g., analytics or funnel analysis).
Data is human behavior, aggregated
How should we investigate, that our hunch states for some real-life users' problem, and it's useful anyway? For this, Temi presented four stages of forming our hypothesis:
A. Problem: It's our hunch, reframed. e.g., It's problematic for users to pick another audio to listen to, while they're in a move.
B: Evidence: Qualitative feedback and quantitative data – put together. The data will help you answer the question: Why you believe that your hunch represents a real users problem?
C: Solution & Outcome: The result of our efforts. We can form the solution in a simple template:
" Therefore … (proposed solution) might (proposed outcome)"
D: Metrics: What makes us know that our hypothesis is wrong or right? We can form the metrics as follows:
"We'll know this (the statement) is true when (metric changes…)"
Build a fast checkout experience with Google Pay
Speaker: Filip Stanis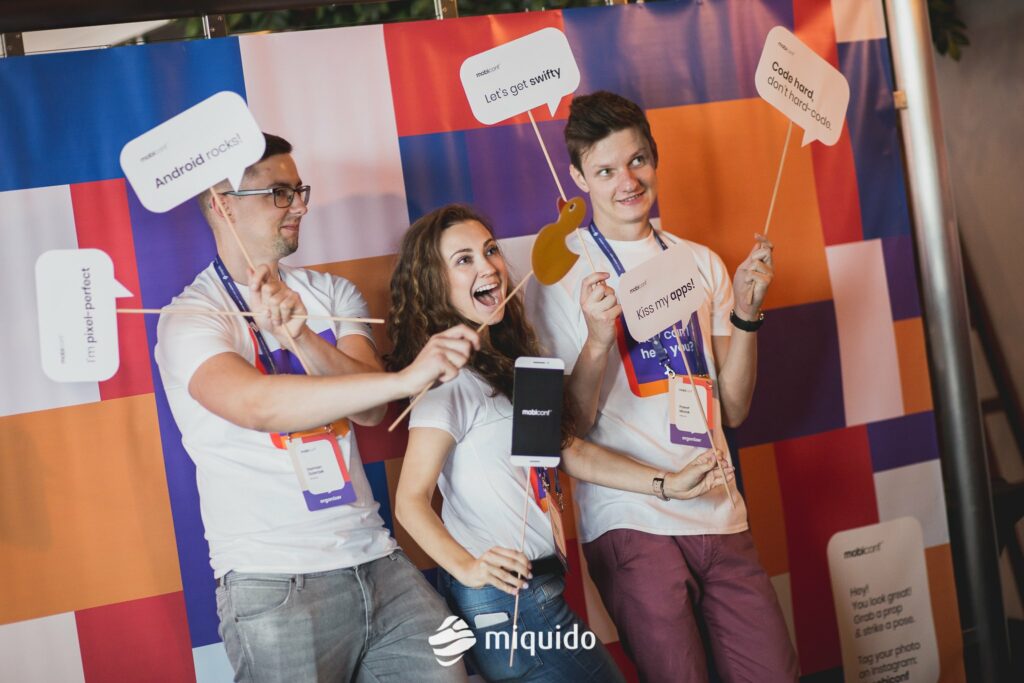 Accepting payments online should be handy to use and easy to implement. 28 % of cart abandonment due to the too long checkout process. During the presentation by Filip Stanis, we had a chance to learn how to improve the payment flow with Google Pay API.
The speaker talked through best practices for using Google Pay API and put theory into practice, adding the life integration part. Filip shared some insightful info on Google Pay Security and a bunch of resources for the most curious fellows – if you'd like to learn more about Google Pay, reach out Filip, and he'll surely come up with answers.
Love & Peace (of Mind): The unexpected paths to better leadership
Speaker: Anna Gawlikowska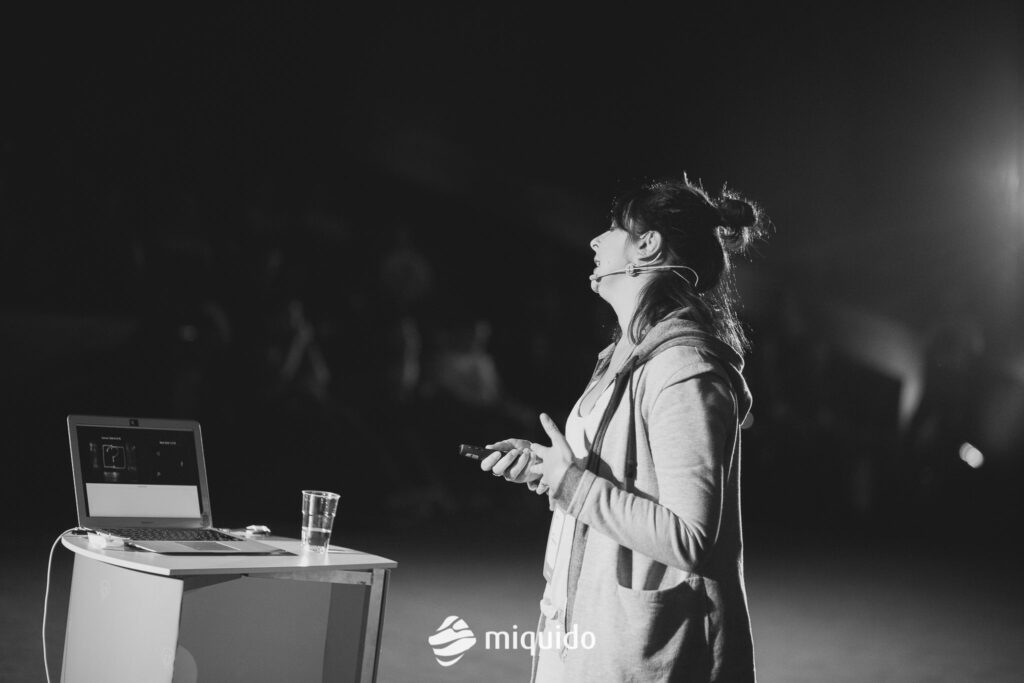 A must-hear presentation for every Project Manager and Leader. As a PM/PO at Miquido, Anna shared her experience on how to handle compassionate leadership combining head and heart.
During her talk, she referred to the feelings that we all know and experienced at some point in our life – irritation and resentment. She advised avoiding leadership patterns that evoke irritation.
Crucial elements of wise leadership
Anna listed the aspects, that drive effective leadership basing on strong human relations and respect:
Empathy and cognition – they give you an understanding of other people's feelings and actions
Motivation – defined as a drive to help a person to face their emotion
Focus – listen to the people and pay attention to what they say or do. Don't distract yourself during the conversation – let people know you're 100% focused on the matter.
Keep calm and be kind. Peaceful mind gives you space, lets you react quickly and actually make better decisions. Don't forget to praise people around you – appreciation one of the most important team-building factor.
Mobile analytics for dummies
Speaker: Mateusz Muryjas
How to identify the metrics that truly matter? To do this, you need a product strategy.
Start with getting to know the possibilities:
What can you measure?
How could you do it?
Why should you measure the particular metrics?
At stage one, it's useful to pick your key growth metric, which is the one metric that matters the most and determines the decisions taken you the company.
Now, how to classify mobile analytics based on data sources?
In his talk, Mateusz Muryjas differentiated mobile web analytics ( how users behave on your website when using mobile?) and in-app analytics (what's their behavior inside the app?).
In mobile web analytics, you can get learnings on your traffic sources, user's profile, track conversions and goals or take a deep dive into user behaviors and content analysis. You can do it with the help of Google Analytics, Hotjar, and many other tools used by marketers or optimization specialists.
In-app analytics gives you insights into users' in-app behavior. This type of analysis gives you the picture of the displayed screens and content, helps you create users' profile based on their behavior, marks events and technical issues or measures users' retention. In-app analytics may be based on a number of tools, i.a:
Google Analytics – putting a piece of SDK in the source code of the app lets you analyze users behavior in the app.
Dev.Flurry – another useful tool that helps you take insights about your users
AppMetrica – marketing platform for app install attribution, app analytics, and push campaigns
Google Data Studio – a great tool for effective data visualization.
User-Driven Design – Topline, Created by Musicians for Musicians
Speaker: Hash Riaz
Hash Riaz, a Programme Manager from Abbey Road Studios, started his talk with presenting the history of Abbeyroad studio since its opening in 1931.
After 86 years of working on audio tech innovations, Abbey Road Red is the open innovation department, designed to support music entrepreneurs and researchers. Red is creating demos, building R&D, workshops, and prototypes for musicians – and Topline app is one of them.
What's the purpose of Topline app?
Topline enables people to record their songs, capture song ideas on the move, have a go in music and facilitate young musicians who may not have access to create some new techniques. The design process of the app is user-driven. To identify the concept, Abbey Road worked with about 100 young musicians and songwriters, gathered their feedback, organized focus group sessions and structured the outcomes during final discussions and post-it note sessions.
After developing the initial features (e.g. importing audio into the app, recording up to 2 voice track or converting and sharing), they added additional functionalities basing on users feedback.
Thanks to this, the current design is intuitive to use, and it incorporates all the features that are really important for the musicians, e.g. allowing additional voice track, volume controls or undo button.
How digital nomads get stuff done using mobile apps
Speaker: Michael Śliwiński
Michael is the Founder and CEO of Nozbe, project management and collaboration tool for busy professionals and their team. Nozbe team is all remote, and they use mobile apps for a modern work-from-anywhere lifestyle.
On a daily basis, Michael works mainly on iPad. During his presentation, he talked over the main elements of productivity and communication process and gave the examples of mobile apps, that enable to get great results in work. The list goes as follows:
1. Deep work
It's time for your focused work. For this purpose, iPad is more than great – you can see just one open card at a time, no additional distractors there. What tools can you use during your deep work mode?
–Textastic app – the solution that enables you to code on iPad.
– Ulysses – an app for writing
– Evernote – task listing and noting app
The comfort of working on iPad is even higher thanks to the fact that it works offline/local when there's no wifi, and automatically switches to cloud, when the internet is available.
2. Feedback loops
For quick feedback on iPad, you can sketch with a finger, marking things to improve e.g. for a designer. Also, you can comment/review code thanks to, e.g. Github, and manage tasks, e.g. on Asana. For writing comments/ making quick fixes in articles, Dropbox Paper is a way to go.
3. Quick back and forth
For quick communication, Michael Śliwiński recommended popular apps like Chat or Slack. They work on iPad as well and are the easiest way to approach your colleagues for a back and forth conversation.
4. Face to face
No surprise here: For face to face contacts, you can use the same apps that you would probably use on also on your traditional Desktop. Skype, Slack calls, Facebook Messenger or – after all- Zoom, are the most useful apps for face to face communication, both one-to-one and group ones.
Mobile apps let Nozbe team works from wherever, with no charm on their productivity – and even with no need to use their laptops for the majority of the time. They also focus on optimizing their productivity in work, paying attention to their deep work phase, and running meeting only when there is a clear need to talk over a particular matter.
Mobiconf – the developers' perspective
A short bonus here: As I attended mostly UX/UI talks, I decided to ask software developers for their feedback, basing on Android / iOS presentations.
What was their impression about Mobiconf 2018?
What was their favorite talk?
"Mobiconf is a conference, which is not focusing exclusively on the speakers, but also on the participants. I appreciate the time between the talks when the attendees have an opportunity to talk about their impressions, ask additional questions, network and brainstorm." – says Grzegorz Przybyła, an iOS team Leader from Anymind. "This opportunity gives me a lot of motivation and is one of the most important values of dev events like Mobiconf."
"Mobiconf focuses on mobile technologies – each presentation is an occasion to learn something new. Both days of the conference are packed with insightful talks, full of tips, inspirations, and use cases. I particularly liked the presentation by Paul Hudson "Understanding the Standard Library" that helped me rediscover the topic and look at it from a totally different angle." – claims Daniel Sumara from FarmaProm.
Hudson's presentation was also mentioned as a top one by Kuba Suder, an iOS and Mac Developer, who visited Mobiconf for the second time.
Why did he come back again?
" I usually prefer conferences that are specifically focused on iOS/Android. But in the case of Mobiconf, the multi-track model works perfectly fine – the topics and content of the talks are well-selected and insightful, which keeps me interested all the way through".
"I love getting fresh news and perspectives for app development" – adds Anna Gnyla from Intense Group. " I loved the presentation about designs that code themselves by Mikołaj Dobrucki. It gave me a fresh look into the designing process".
Wrap up
This year, Mobiconf gathered over 550 professionals of iOS and Android development, UX/UI design and beyond. The cinema venue provided the attendees with top-class audio & video experience, helpful staff an user-friendly feel.
To get more insight on the conference, go to Mobiconf Youtube channel, where you can see the conference highlights. And if you're still eager to get more – attend the next edition of Mobiconf!