The moment you realise your product needs AI is just the beginning of a journey. Your success depends on the quality of development and implementation. And here comes the first issue: how to find experienced AI developers.
The demand for AI professionals is growing rapidly, yet the choice of experts is still quite scarce. To top it all off, hiring a person in-house can be quite expensive, too. To give you an idea, the median hourly rate of an AI developer in the UK is around £45.00.
This is exactly why many companies decide to hire an AI software development agency instead. Not only are the total costs much lower (especially in the case of companies from Central and Eastern Europe), but you can also rely on the expertise of a knowledgeable team.
How do you find the right AI software development company, though?
When you're not an expert in the field, it can be hard to figure out if a particular provider is a good choice. We wrote this article to help you out. Here are some of the most important things to keep in mind when hiring an AI software development company. Dive right in!
What are the skills of an AI software developer
To understand what's going on, it's best to start with a quick introduction to AI terminology. The moment you start researching the subject, you might quickly get overwhelmed by jargon and some quite unclear technical terms. So, what are the core skills of an AI developer?
Data science skills – Here's where it all starts. Every AI professional has to know how to handle data and prepare it for analysis. A strong background in statistics is also necessary.

Machine learning and deep learning – Both of these terms are often used in the context of AI, but what exactly do they mean? Machine learning algorithms can learn how to perform certain tasks by generalizing from examples. To put it simply, the algorithm finds a way to solve a problem without clear instructions, as it makes predictions based on available data. Deep learning is a subfield of machine learning which uses a specific kind of model, neural networks based on the structure of the human brain. If you'd like to learn more, we think you're going to enjoy our machine learning vs. deep learning comparison.

Python, R and Java – Being fluent in at least one of these languages is crucial to managing large amounts of data and dealing with complex scenarios. Python has been the market leader for years now, while R and Java both remain a popular choice.

When you have an idea of the basic AI skillset, you'll find it much easier to discuss details with the AI development company. Of course, you don't need in-depth technical knowledge at this stage, but it surely pays off to know what the main fields of AI are and how they're applied in business.
Now, what about choosing a well-suited artificial intelligence software development company? We encourage you to pay special attention to these things:
How to tell if an AI software development company is the right match for you
See how they come up with a solution
We can consider two different cases here:
Your problem is unclear and you have no idea how to solve it.
The AI development company's role is to show you the way. If they expect you to provide a fully specified problem and solution, you might want to start looking for another provider. After all, they are the experts and they should be ready to guide you through the process.
You've got a well-defined problem and a suggested solution.
Even if you already have an idea, the AI development company shouldn't stick to it right away. Their job is to evaluate your suggestions and see if there's another, possibly better, way to address the issue.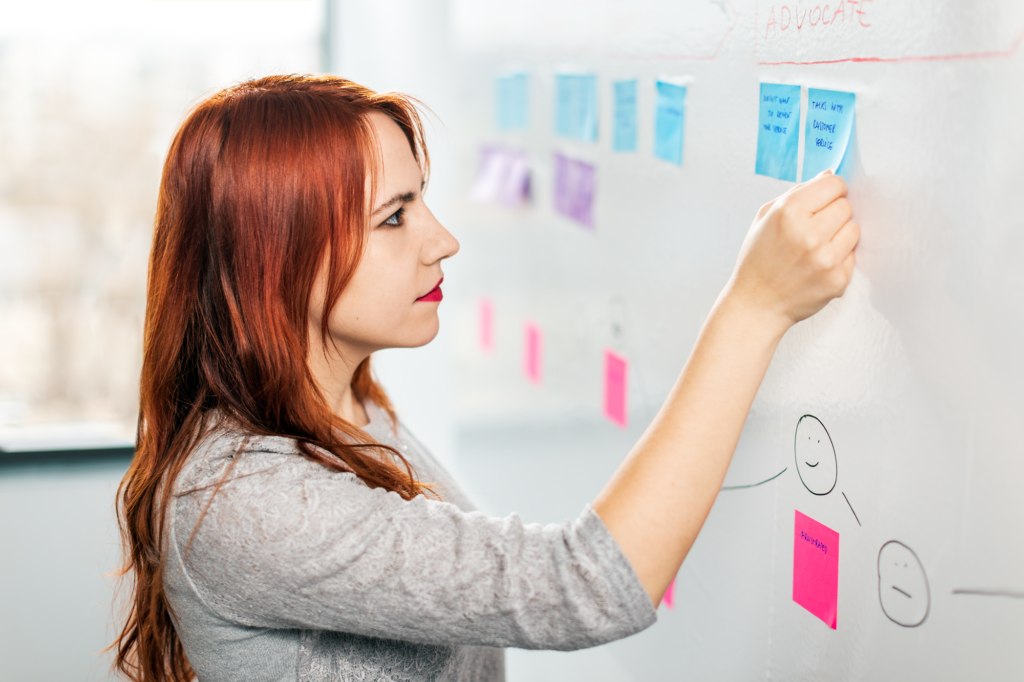 At Miquido, we take it to heart. We believe that by gathering all team members in one room, we can come up with better ideas and improve productivity. This is why our projects start with a discovery workshop. This method makes it much easier to evaluate business ideas and define the product's scope.
We take personalised approach seriously, too. With every client, we check what kind of data is already available and how we can use it to implement AI in the company. After thorough research, we create a tailor-made solution to collect data for machine learning. We can also use analytics dashboards to present key business metrics and define KPIs.

When you reach out to us with a specific idea, we're going to prepare a proof of concept first. Agile development methods are in our blood – we prefer to test an idea first to see if it's the best fit to solve the issue. This is the best way to avoid the sunk cost fallacy. It's hard to admit when you realize that your project doesn't meet its goal, right? We do our best to prevent this.
Strive for a far-sighted approach
The statistics speak for themselves: the number of companies using AI grew by 270% over the past 4 years. By 2021, 80% of new technologies are going to be based on artificial intelligence.
The takeaway? At some point, virtually every company is going to work with artificial intelligence products and implement solutions based on machine learning.
Don't hesitate to ask the AI development company of your choice about their long-term plan. What kind of data do they want to collect and how are they going to use it later? How are they going to handle maintenance issues? Do they have a plan for the quarters and years to come? An effective AI software development company should be able to answer all of these questions.
Ask for a clear value proposition
It doesn't make much sense to implement AI just for the sake of it.
Sure, it gives a good first impression when you use artificial intelligence, machine learning, big data and other fancy buzzwords on your product's website. Why invest in it, though, if it's not going to make a difference?
A good AI software development company is not going to convince you to use artificial intelligence even though it's not necessarily needed.
Some products are primarily AI-based, and they can't exist without it, while some only use artificial intelligence to provide better search results, suggest improvements and improve the overall user experience. The AI development company's task is to suggest a solution that meets your goals best. This is why it's always good to ask for a transparent value proposition. Every trustworthy company should be able to describe the benefits clearly so you can see how the AI solution is going to help your business.
Address cybersecurity in the cloud
Even though 90% of companies use cloud services, and the interest in this technology is constantly growing, some decision-makers are still skeptical about cloud-based solutions. Most concerns are related to data security.
Are these doubts really justified, though?
If you take updates seriously and install all the latest security fixes regularly, cloud solutions are an even safer choice than on-premise software. What's more, machine learning requires processing large amounts of data. If you'd like to use physical devices for that, the costs can get overwhelming. Most of the time, cloud-based options are cheaper and easier to maintain.
When you're choosing an AI software development company, always be sure to ask about cybersecurity measures. Artificial intelligence is a huge investment, which means that even a minor security breach can result in severe consequences. That's why at our software development company we've got a group of experts focused on keeping your data secure.
Key takeaways for choosing the right AI development company
If we were to choose a single best practice for choosing the right AI company, it would be to look for one with a comprehensive approach. There are a lot of factors to consider. To get it right, you need a company with a clear vision and expertise.
Last but not least, we suggest you focus on communication from day one. If you can't find common ground, you also won't be able to find the best solution for your needs.
Our philosophy is to treat clients as partners. The objective is to collaborate and come up with the best possible strategy together.
Does that sound like an AI development company for you?