Over recent years, User Experience (UX) has become one of the key elements of building digital products. Today, it's no longer enough for mobile apps or websites to be visually stunning, they need to be, above all, functional, intuitive and tailored to users needs.
Once a product is released to the market, users get a solution that meets their expectations and gives them an enjoyable and hassle-free experience. But to make it true, first the real magic happens in the design studio where UX researchers and designers work together to create the final version of an application or website. To do so, they need professional UX/UI tools! And today, we'll tell you a bit more about them!
So if you're looking for the best tools that will come in handy at every stage of creating user-centered product solutions – whether it's research, user testing, interface design, prototyping, wireframing or team collaboration – we've got you covered! Here are 12 top UX/UI tools we use at Miquido. Let's dive right in!
Our favourite prototyping tools for UX/UI designers
1. Sketch
If UI design is your thing, you've definitely heard of Sketch more than once. It's without a doubt one of the most popular tools for creating high-fidelity interfaces or prototyping. Before Sketch entered the game to become one of the designers' most beloved tools, a vast majority of them were building user interfaces with Illustrator or Corel. Times have changed and today UI designers have dedicated tools to create interfaces. And Sketch is definitely one of the leaders!
So what makes this vector-based design toolkit so powerful? Sketch offers a wide range of exciting features (Symbols, Variable Fonts Support, Smart Distribute, Components Panel – just to name a few!), easy integration with other apps and, what's more, it has a simple user-friendly interface.
Sketch seems to be a perfect UI design solution but it has one quite important drawback that benefits its competitors – it's Mac-only. So if you use Windows, Sketch is definitely not for you.
2. Figma
UI designers don't usually work in isolation. After all, the best results can be achieved when you combine the skills of several designers and take into account different points of view, right? And that's exactly what Figma's creators had in mind when developing this great UI design tool.
Why do we absolutely love Figma? First of all, it's a cloud-based solution – there's no need to download the application on your desktop (although you have such an option) and, as we mentioned earlier, you can work with your team members simultaneously. If you choose Figma, don't forget to try out the Auto Layout or Component options – they make the design process super smooth and enjoyable!
3. Adobe XD
Speaking of the best UX design solutions, we couldn't help but mention Adobe XD. It goes without saying that Adobe has been the leader in design tools for years now – whether it's Photoshop for image editing, InDesign for print layouts or Illustrator for vector graphics, Adobe never disappoints. So developing a dedicated tool to design user-friendly interfaces was a matter of time, and here Adobe definitely succeeded as well. This tool is easy to use, offers all the features needed to create hi-fi prototypes and provides smooth integration with other Adobe products.
4. InVision Studio
The list of the most popular prototyping tools wouldn't be complete without InVision Studio. If you're looking for a professional tool to create fully functional prototypes with the possibility to include dynamic elements and even animations, then InVision is the perfect solution for you. With this tool, you can design an interactive and responsive layout that you can present to your team or stakeholders at every stage of the digital product creation process. This way, you can easily show what the final version of your mobile app or website would look like.
5. Webflow
Webflow is an excellent solution for those who want to build websites or e-Commerce stores without technical knowledge or coding skills. As the creators of Webflow show, it allows you to build visually impressive interfaces and then launch your own website without asking web developers for help.
In addition, Webflow offers CMS solutions to enable efficient search engine optimisation, content marketing tools and integration with social media platforms.
6. Principle
When it comes to creative interactive interfaces and multi-screen apps, Principle does a great job. This popular platform has many useful advantages: it's packed with numerous hi-fi features, enables real-time previews and live prototyping. Create impressive and engaging animations or integrate your designs with other UX/UI tools like Figma and Sketch – all this is possible with Principle.
Want to see what custom design solutions we have already delivered to our clients? Check our design board and get inspired!
Powerful UX tools for research & team collaboration
Now, let's move to more analytical and research-related tools. After all, as we've already mentioned, UX is not just about creating beautiful interfaces. If you wish to build a meaningful product that meets user expectations and ensures that your digital product achieves massive success once it's released, then the research part is something you can't neglect or just skip.
So invest some time in researching your potential audience to make more data-driven and user-centered decisions. It will definitely pay off! So here are several tools that you definitely need for your research, analysis and testing.
7. Hotjar
Let's start with a tool that not only UX researchers but also most marketers and product managers know quite well. Hotjar is an extremely popular tool for measuring user engagement and behaviour. It uses, among other things, heatmaps to learn more about users and their satisfaction.
Not quite sure about heatmaps? Here's a quick summary: they are by far one of the best and most effective ways to test how users interact with your digital product and whether they experience any difficulties or hassles. As the name of this research method suggests, heatmaps visually represent where your visitors clicked, scrolled or moved within your website through the warm-to-cool colour scale.
Remember: once you release your final product (or at least an MVP), you should always leave some room for experiments and improvements. So use Hotjar for heatmaps, A/B testing, screen recording and polls.
8. UsabilityHub
Are you seeking answers not only to the 'what' and 'how much' questions but also want to find out 'why' during your research? Qualitative research is always a great approach! Reach real users and conduct a series of tests with them. This way, you will learn more about them: their needs, interests, or obstacles.
And where can you find users for testing? Just choose UsabilityHub!
This remote platform will help you to perform different types of tests, such as:
user surveys
preference tests
click analysis
navigation testing
All in one place!
9. Google Analytics
If you need to do some really in-depth research to introduce data-driven changes to your digital product, there is practically no better tool for quantitative analysis than Google Analytics. We recommend this web analytics service to anyone who is involved in marketing, UX research, SEO, e-commerce or digital product development in general. So if you're not using Google Analytics yet, it's about time to change that. Get a tracking code, add it to your website (you can do it, for example, with Google Tag Manager) and analyse the reports on a regular basis, and especially when you introduce some changes or campaigns to see how they perform.
The amount of data about your users and their behaviour you get from Google Analytics is absolutely mind-blowing. With it, you can measure:
user demographics (age, gender, location, interests)
engagement metrics (bounce rate, average time on page, pageviews)
conversion rate
user behaviour (frequently visited pages, exit pages)
and… so much more!
Is your bounce rate too high? Or has your conversion rate dropped dramatically? Data from Google Analytics is always a great starting point for your further in-depth quantitative research.
10. Miro
Team collaboration is one of the most fundamental aspects of building a digital product. I guess we all know that. But how to cooperate effectively when practically everyone is working remotely these days? Here, Miro – a great collaborative whiteboard platform – comes in handy.
Together with your team you can create a whiteboard on which you use various pre-built or custom templates, build an infinite canvas, utilize sticky notes, add some comments or embedded videos – the possibilities on how to apply Miro to teamwork are endless.
What's more, you may use this great platform to organise remote workshops with your clients and stakeholders. With Miro, you will be able to jointly work on defining the product strategy, target audience and setting long-term business goals.
11. Zeplin
Would you like to involve not only designers from your team, but also UX writers, developers, project managers, or product owners to your design workspace? With Zeplin, it's super easy. Once your project from design tools, such Sketch, Photoshop, Adobe XD or Figma, is ready to be shared with your teammates, all you need to do is publish it on Zeplin.
This tool will be a huge help for all people involved in your projects. With it, web developers can check the complete frontend code easily and copywriters can leave comments on specific elements of the interface. Create a multidisciplinary team with Zeplin and your collaboration will go smoothly!
12. Pen and paper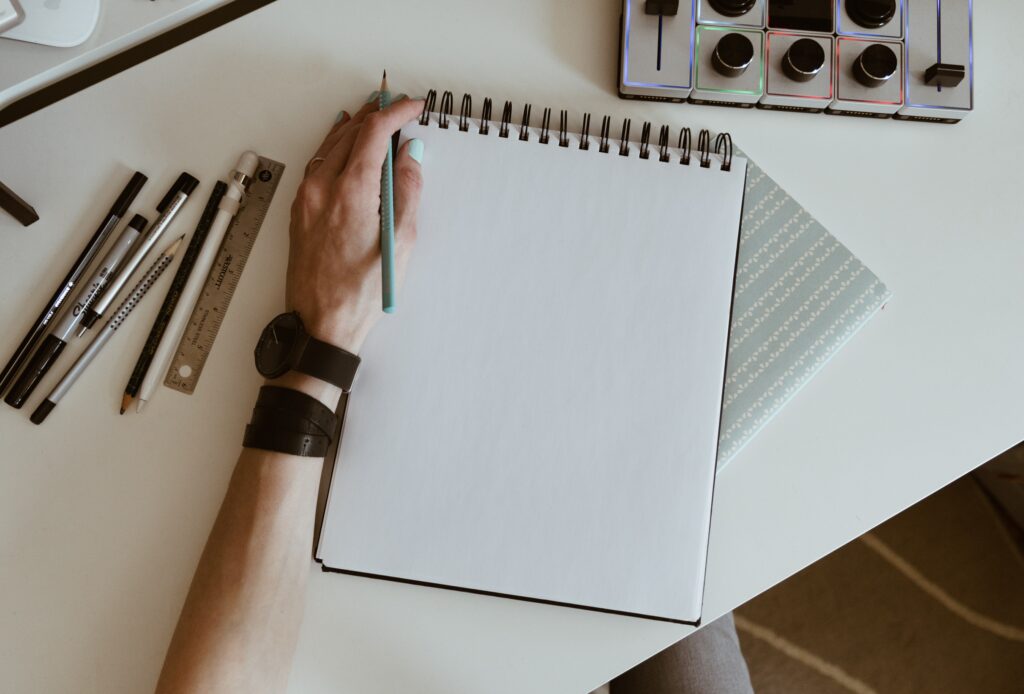 And last but not least… pen and paper. As simple as that!
Sometimes, if you're just looking for inspirations or want to create low-fidelity prototypes, there's no better way than to grab a pen and a piece of paper and start drawing your app screens. It's also a great tool for usability testing with users (e.g. card sorting), brainstorming, listing ideas or potential problems, or just taking notes. After all, who said that you always need dedicated tools for the design process?
Best UX/UI tools: final thoughts
Creating user-oriented successful digital products would be impossible (or at least extremely difficult) without the right set of UX/UI tools. They can be a huge help not only at every stage of creating mobile apps or websites but after the release as well! Keep in mind that the design process doesn't end with a product launch as there's always room for research, testing and introducing improvements.
Of course, you have many other solutions to choose from, it would be hard to list all of them here – that's why in this article we focused mainly on the ones that our design teams use when working on projects at Miquido.
If you want to learn more about our design process and UX/UI services, feel free to contact us!
Let's turn your idea into a scalable digital solution together!