Healthcare is an industry like no other. While it's very much in demand, the subject matter remains complicated and the responsibility high. Healthcare software development is a challenge for IT professionals. When it's done right, the solutions can be truly revolutionary.
In this article, we're going to have a closer look at the most interesting healthcare software solutions on the market. Let's start with software that helps with one of the critical issues in healthcare: communication.
Communication tools in healthcare
Did you know that roughly 80% of medical errors happen because of miscommunication? A lot of mistakes could be avoided if we change the way medical professionals share information.
Doctors, nurses, and other members of the staff have a lot on their plates. Luckily, dedicated healthcare communication tools are here to help them out. At Miquido, we've started a collaboration with Forward, a medical start-up based in London. Our common goal was to fix broken hospital communication and save the precious time of medical professionals.
Together we've created Pando, a tailor-made solution for British healthcare employees: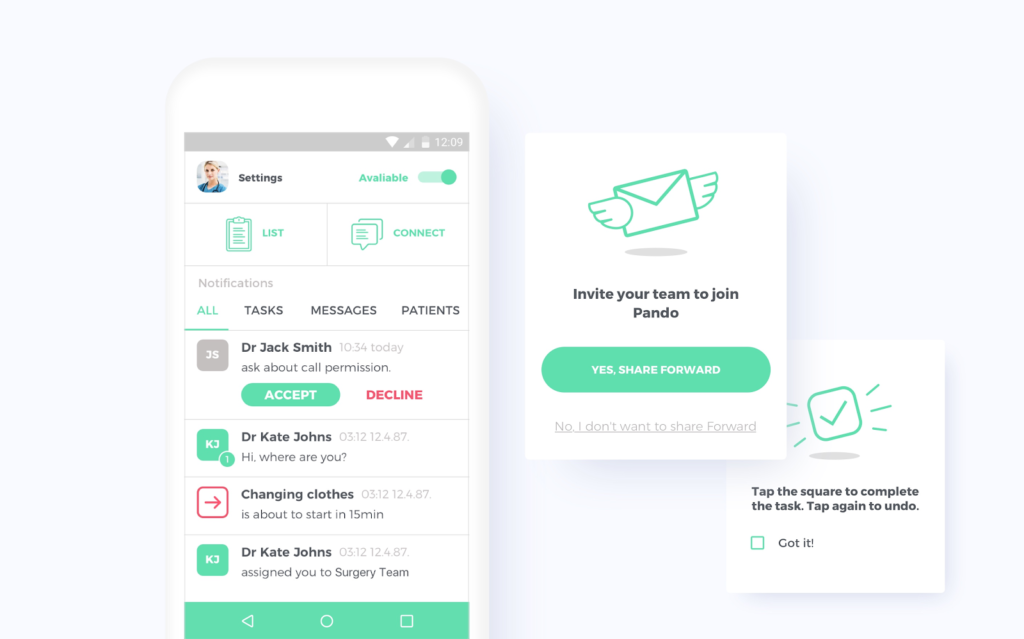 The challenges behind healthcare communication software development
Creating a tool like Pando doesn't happen overnight – there's a wide range of factors to keep in mind. The first thing you need to consider is safety. As the users are going to share a lot of patient data, the platform has to be particularly well-protected.
We had to start with all the legal requirements. When it comes to the UK market, every healthcare application has to meet NHS (National Health Service) standards. What's more, it also needs to be compliant with the UK Information Governance and European Data Protection Guidance (GDPR). Forward was a great partner here, as they have already developed a range of apps used by NHS Trusts.
Every user of the app has to be verified, and the easiest way to do it is through their email address on the NHS domain. The users can confirm their identities offline or through video verification.

Logging in also requires extra steps. Just like most banking apps, Pando is protected with a PIN code and a biometric verification system.
Obviously, communication in healthcare comes with plenty of sensitive information, including electronic medical records. It's hardly a surprise that there are even more rules when it comes to data processing. If the user saves anything on the website, it needs to be cached and immediately deleted after the user leaves the app. What's more, data is encrypted according to the AES 256 standard.
The core features of Pando
Pando stands out from the crowd, as it's designed specifically for healthcare professionals. Here are some of the features that make it the right match for their needs:
Secure messaging – The medics can exchange messages between each other and between teams. They can use Pando to communicate with people from the same hospital, or even from the wider region if it's needed.
In-app image management – Medical professionals can take pictures with Pando to share them with colleagues and ask for advice. Instead of saving files on the device, all pictures are securely stored in the cloud.
Patient lists – It's a handy and safe way to store all the patient data in one place, and share it with other professionals if it's necessary.
Work-life balance – Everyone needs a little break. The user can customize their availability and disable Pando notifications when needed.
Voice assistants in healthcare
Not all health-related software solutions are addressed to doctors only. Many of them serve patients and their caretakers. Physio makes a great example here: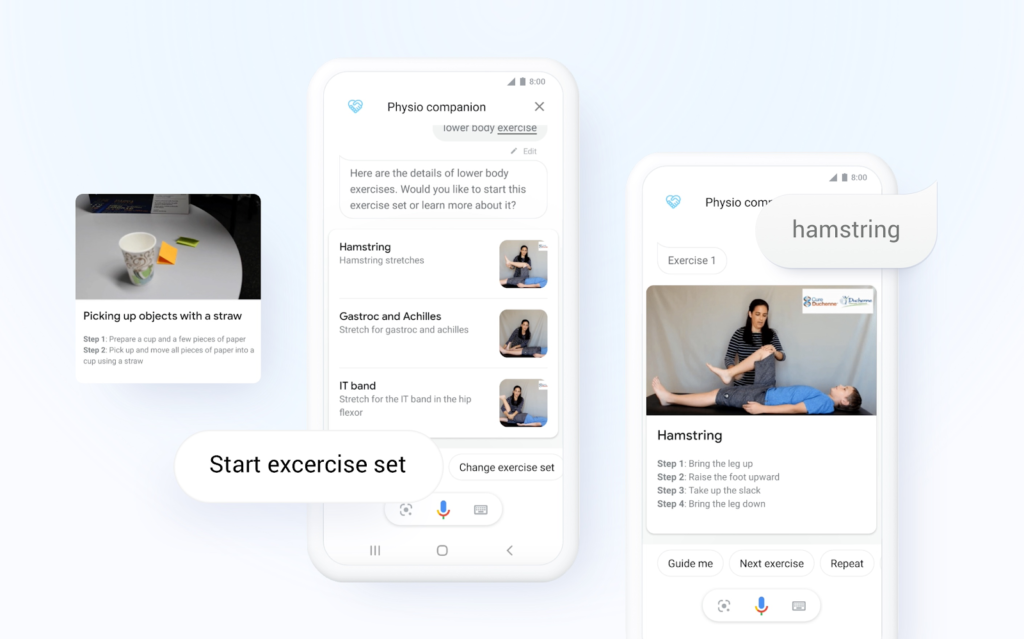 This voice-enabled app is addressed to people affected by the neuromuscular disorder. The scale of this problem is wider than you might have suspected. In the EU alone, more than 200 thousand people are affected by this disease. Although it's not curable, daily exercise can slow down the progress of the condition.
Here's where another problem emerges: only less than a quarter of them receive physical therapy care. Oftentimes, patients need to wait for months to finally get an appointment. Because of that, their caregivers need to learn the basics of physiotherapy and assist the patient during their exercises. This part is also quite dangerous, as poorly conducted sessions can do more harm than good.
We've created Physio to address this issue. It's a voice app for a particular reason: the caregiver's hands are busy. This way, they can hear instructions for different exercises without touching the screen. They can also set up reminders for particular sessions.
Telemedicine software
Faced with the COVID-19 crisis, telemedicine software is currently on the rise. Some medical professionals simply use widely known videoconferencing tools, yet some prefer dedicated healthcare solutions. One of the most popular telemedicine apps is Doxy.me, an accessible tool to connect clinicians with their patients.
What if you could go one step further? StethoMe caught our interest the moment we first saw it.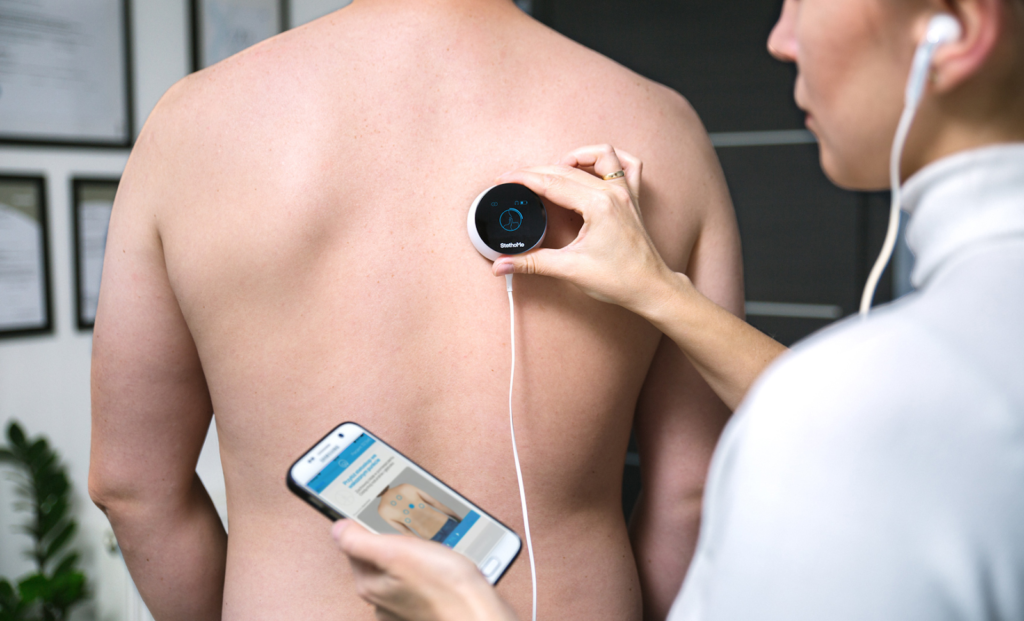 The idea is quite innovative. StethoMe is an AI-powered stethoscope that allows you to examine yourself (or your loved ones) at home. The device works with a dedicated application which sends the results immediately to the doctor. Based on the information, the clinician decides what to do next. This makes things so much easier, especially when you can't meet the health professional face-to-face.
Healthcare scheduling software
We've already covered an array of technical aspects, but what about scheduling doctor appointments? If you've ever booked some, you probably know that it doesn't always go as smoothly as expected.
One of the biggest healthcare platforms on the market is DocPlanner, a healthcare booking software provider. It's now available in almost 20 countries around the world, from Poland (DocPlanner's home country) and Spain to Argentina and Chile. Every month, it connects around 30 million people with medical professionals in their area.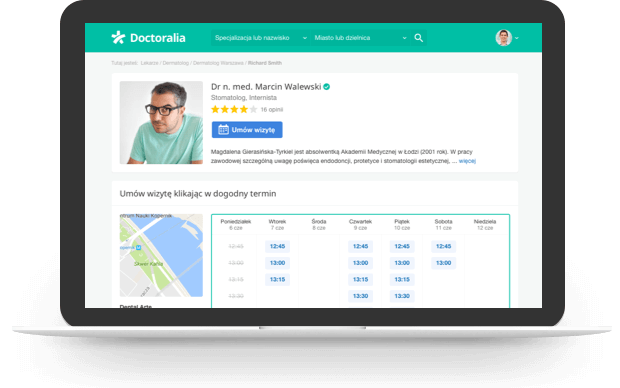 Tools like these help both the patients and the doctors. The appointments can be booked in just a few clicks, while the clinicians can easily manage their schedules and reduce the number of no-shows.
Health monitoring software
Of course, healthcare doesn't end right after doctor appointment. The user needs to follow the recommendations, and here's where health monitoring software comes in handy.
Together with Vheda Health, a Maryland-based software development company, we've created a mobile app for people with chronic diseases: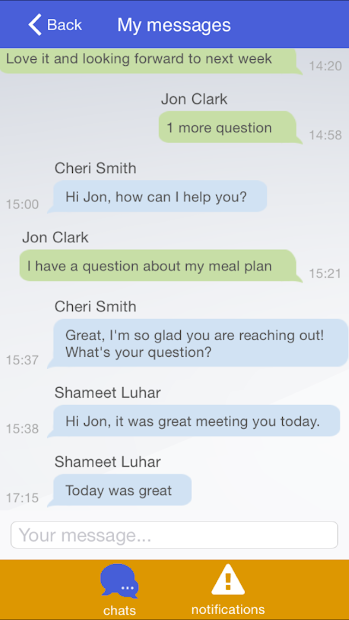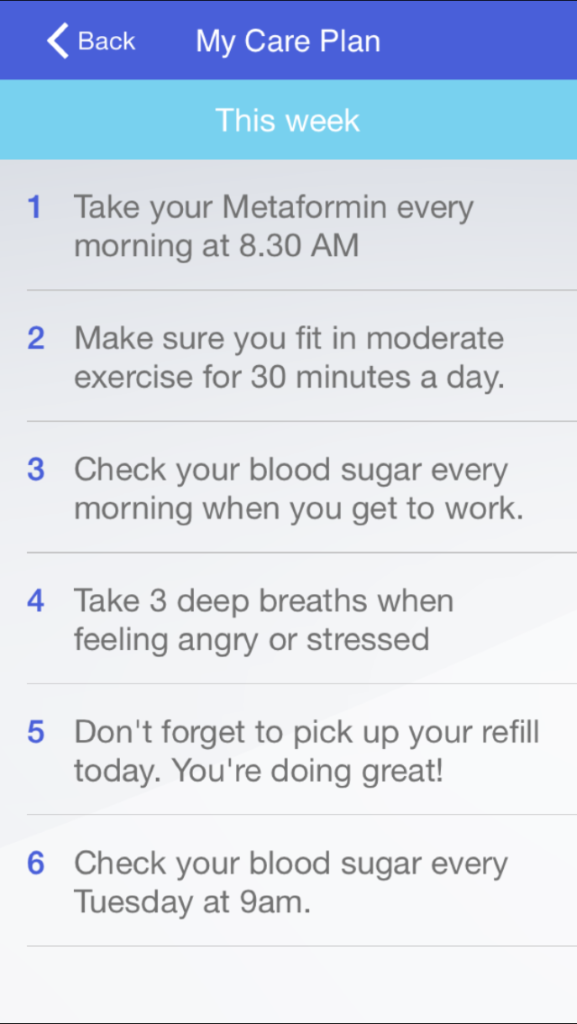 The patient can use the Vheda Health app to communicate with the medical professional, follow the care plan, and educate themselves too. This kind of software keeps the users motivated and helps them keep track of all the medical recommendations.
Healthcare software development: what to consider
The Therac-25 case is one of the most prominent example of how serious it can get. Due to a programming error, this radiation therapy machine has exposed at least six patients to severe overdoses of radiation. These incidents have resulted in serious injuries, and even death. This particular story is quite drastic, yet it remains a great illustration of the responsibility that comes with healthcare software.
Developing applications for the healthcare industry requires a lot of attention to detail. In many cases, you're partially responsible for someone's life.
Searching for a custom healthcare software solution?
In order to avoid these risks, it's best to leave this duty to professionals with experience in the field. Are you in need of a tailor-made digital product to fit your business strategy? Drop us a note here and see what we can do for you!
Hungry for more? Check out our previous stories: